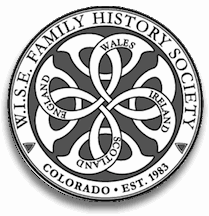 Dorothy Coltrin will discuss what steps it took for her to transcribe "secretary hand" used in 16th century Scotland. She created a modern version of the will [testament] and then deciphered the structure of the Rolland Acoltrane family of Mochrum Parish, Wigtownshire, Scotland.
Dorothy is a member of W.I.S.E. Family History Society as well as the Boulder Genealogical Society, New England Historic Genealogical Society and is treasurer of the Colorado Council of Genealogical Societies.
Come hear Dorothy's lecture "How I Transcribed a Testament [Will] of 1570" at the September meeting of W.I.S.E. on Saturday, 22 September 2012. W.I.S.E. meets in the 7th Level Training Room of the Central Denver Public Library. The meeting begins at 1:30 and is free and open to the public.