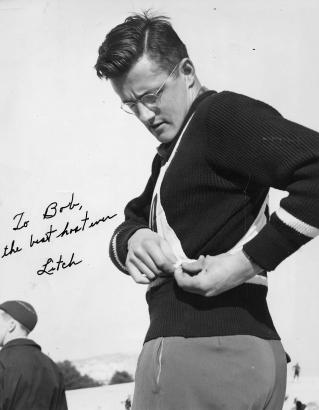 Saying Goodbye to a Long Time Friend
Saying Goodbye to a Long Time Friend
I'd like to take a moment of your time to tell you about the passing of a long time friend of the Library. John Litchfield from the 10th Mountain Division has passed away last Friday the 10th of June, just shy of his 94th birthday.

Back in 2006 John approached Dennis Hagen, our 10th Mountain Division Collection Archivist and I for help with producing a "booklet" for the 28th National reunion of the 10th Mountain Division held here in Denver. After many meetings and lots and lots of information funneled to us, we soon had a 369 page book on our hands. I won't say it was always fun, but meeting with John every week, sometimes twice a week, gained me insight into what an interesting man he was. One of the best parts of the job at the library is hearing the stories and this group of guys never let us down.
Litchfield was an amazing person; he came from a background of skiing as a member of the Dartmouth College Ski Team, 1935-39. In 1937 he participated in the Pan American Championships in Chile and was a ski instructor in Aspen 1945-48. He held the coveted Sun Valley Diamond Sun Award and was an inductee of the National and Colorado Ski Halls of Fame and the Maine Sports Hall of Fame. Needless to say his upbringing was just what the army was looking for when they started the first 10th Mountain ski troops. During his service he received the Bronze Star Medal.  He was promoted to Captain on February 7, 1945. After his service he came here to Colorado, and with Freidl Pfeiffer and Percy Rideout, he started the Aspen Ski School where he became a co-director and built and operated the famous Red Onion Restaurant in Aspen.
I just wanted to say what an honor and privilege it was to meet and work with this man.  He was a little hard of hearing, but I'll miss hearing my name shouted out from across the library floor. Knowing him, I can just hear him saying what a load of Horsehockey, but that was just the way he was. So if you have a chance to meet and talk with a veteran, your life will be more enriched.
If you would like to find out more information on the 10th Mountain Division Resource Center at http://10thmtndivassoc.org; the Denver Public Library's collection at http://history.denverlibrary.org/collections/10th.html

And just a last Hale and Farewell to John Litchfield, you'll be missed.