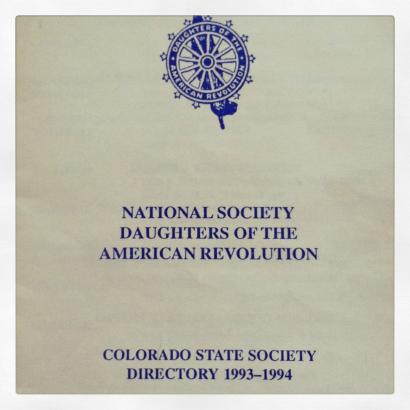 Saturday in the Archives: Daughters of the American Revolution
Daughters of the American Revolution was founded on October 11, 1890 with a three-fold purpose:
1. Historical: To perpetuate the memory and spirit of the men and women who achieved American Independence by the acquisition and protection of historical spots and the erection of monuments; by the historical research in the relation to the American revolution and the publication of its results; by the preservation of documents and relics and of the records of the individual services of revolutionary soldiers and patriots and by the promotion of celebrations of all patriotic anniversaries.
2. Educational: To carry out the injunction of Washington in his farewell address to the American people, "to promote, as an object of primary importance, institutions for the general diffusion of knowledge" thus developing an enlightened public opinion and affording all such advantages that develop in them the largest capacity for performing the duties of American citizens.
3. Patriotic: To cherish, maintain and extend the institutions of American freedom, to foster true patriotism and love of country and to aid in securing for mankind all the blessings of liberty.
Western History and Genealogy is home to the records of several local chapters of this long-standing, reputable, and fascinating organization: thethe Colorado Chapter (WH1391), the Colorado State Society (WH91), the Denver Chapter (WH934), and the Mount Rosa Chapter (WH884). Thirty-five chapters operate throughout the state of Colorado. Worldwide, DAR boasts 170,000 individual members and 3,000 chapters. The D.A.R. is a non-profit, non-political volunteer service organization comprised of women (18 years or older) of all races, religions, ethnicities, and walks of life who have proved lineal blood line descent from an ancestor who aided in achieving American independence.
Genealogists and researchers visit the Western History and Genealogy Department regularly to research their bloodlines for membership to the DAR, to explore our large collection of published material on the DAR, and to research the local history of the organization using our manuscript collections. The manuscript collections include material such as meeting minutes, yearbooks, membership lists, meeting schedules, treasurer papers, committee reports, national and state conference information, registrar reports, scrapbooks, clippings, photographs, invitations, and announcements. 
Come visit us to learn more! Visit www.dar.org for more information about the national organization.