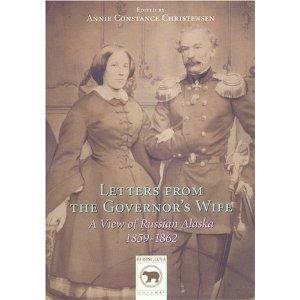 Russian American studies is alive and well. This past spring marked the 200th anniversary of Fort Ross in Bodega Bay, California. This was the southern most outpost of the Russian American colony which stretched from the far reaches of the Aleutian Islands of Alaska down the Pacific coast of North America to just north of San Francisco, California.
Vinkovetsky has added to the reading list with Russian America: an Overseas Colony of a Continental Empire, 1804-1867. C305.89171 V764ru 2011  He argues that unlike the Siberian Frontier of the Russian Empire, Alaska colonization is based on a European model under the Russian-American Company instead of a continuation of the Siberian experience. He relates the activity of the russification of the local population.
This is of interest to Denverites as our own local Orthodox Churches in Colorado were established under the Russian Orthodox Bishop of San Francisco, Archbishop Tikhon Belavin, later elected Patriarch of the Russian Orthodox Church. The diocesean headquarters was transfered from Alaska to San Francisco after Alaska was bought by the U.S government in 1867.
Russian America is in a long line of recent publications dealing with the Russian period in Alaska.  Readers may want to look at The Russian Orthodox Church of Alaska and the Aleutian Islands and its Relation to Native American Traditions: an Attempt at a Multicultural Society, 1794-1912 by Ivanov Vsevolodovich.
The Russian Orthodox Church in its Mission to the Aleuts by Paul Barkey. Letters from the Governor's Wife: a View of Russian Alaska, 1859-1862 by Anna Furuhjelm. A Construction History of Sitka, Alaska, as documented in the Records of the Russian-American Company by Katherine Arndt. Russians in Alaska, 1732-1867 by Lydia Black.  Other books of interest include Memory Eternal: Tlingit Culture and Russian Orthodox Christianity Through Two Centuries by Sergei Kan. Through Orthodox Eyes: Russian Missionary Narratives of Travels to the Dena'ina and Ahta, 1850s-1930s by Andrei Znamenski. Buildings of Alaska by Alison Hoagland.
Readers will enjoy exploring these and other materials in Western History and Federal Government Documents.