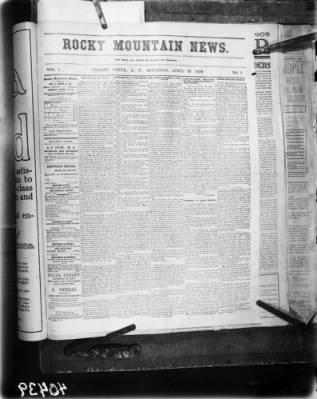 The "Rocky" comes to the Denver Public Library
After almost four years of contract negotiation between Scripps and the City, the Denver Public Library will officially be designated the repository of the Rocky Mountain News archives. The Rocky was Denver's first newspaper and existed from April 1859 until it closed in February 2009. These archives will be the largest single collection in the Western History/Genealogy Department.
Here are the details:
· Denver Public Library will be the owner of the copyright including text and images.
· The only property that DPL will not own will be the Rocky Mountain News logo and IP address.
· The collection consists of:
a.    350,000 born digital photographs published from the 1990s to 2009. These include images of the Broncos, Colorado Rockies and other profession sports teams; events such as the visit to Denver by Pope John Paul II; the Oklahoma City trial; as well as the Rocky's Pulitzer Prize photos.
b.    200,000 negatives dating back to 1942.
c.    200 boxes of photo prints
d.    Over 250 boxes of newspaper clippings
e.    The microfilm negatives of the Rocky from 1948 to 2009
f.    The electronic files of the Rocky Mountain News web page
g.    John Temple's office files.  John was the last editor-in-chief
h.    Some reporters' files
i.     Sketches made by the newspaper's artist, including images of civic leaders,   business leaders, and celebrities
j.     The text of articles from the Rocky that appear on Newsbank
It will take staff about two years to make everything in the collection available to the public. WHG will let staff and public know when parts of the archives are made accessible. Making the digital photographs available on the Library's web page is a priority.
Special thanks to Michelle Jeske and Jim Kroll who worked with Debra Knapp of the City Attorney's office on the agreement.