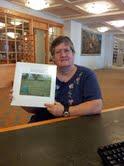 Riverside Cemetery Block 12 Paupers Field
Vickie Smejkal and Diane Nygaard got into a pickle. They were on a tour of Riverside, looking out over the sea of unmarked baby graves, when Diane turned to Vickie and said we should find the families of these children. Thousands of research hours later they have made some progress.
Vickie calls block 12 Denver's Potters Field. They "hope to identify and promote memories of those individuals lost, forgotten, and buried with little to no funds in Denver's Riverside Cemetery."
Included in this work are a few obituaries and profiles of "characters" or individuals along with photos of current grave markers and headstones. A spreadsheet rounds out the study in alphabetical order of deceased, date of burial, age, race, gender, block, lot and section, notes, undertaker, source, date of birth if known, date of death, and parents if known.  Needless to say there is a great wealth of identifying information to assist any research to connect with the correct kin.
Smejkal and Nygaard have created a finding aid to be emulated by others considering such a project. Riverside Cemetery Block 12 Paupers Field by Vickie Smejkal will be found with the other Denver cemetery books at call number G929.578883 S637 2013.