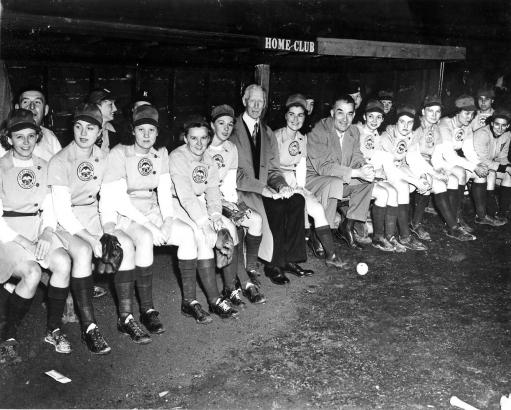 Remember when professional baseball was an all-girls club?
As another baseball season winds down, and Todd Helton's retirement this week has Rockies fans soaking up the nostalgia of Helton's amazing run as Colorado's favorite first baseman, it seems appropriate to highlight a little gem of baseball history in the Western History/Genealogy archive.
Fred Leo might be best known in Denver for his sports broadcasting career; he was the first to do play-by-play coverage on the air for the Denver Broncos. But early in his career, Leo worked in radio in Chicago. When WWII broke out, Major League Baseball found itself in danger of losing players to the war effort, prompting the formation of a new league that would draw spectators and keep baseball alive. Fred Leo and others worked with Brooklyn Dodgers GM Branch Rickey and Chicago Cubs owner Phil Wrigley, to establish the All American Girls Softball League.
The league gained momentum, growing from six teams to ten, drawing crowds across the Midwest and Eastern U.S., even playing exhibition games in Cuba and South America. In 1944 the league changed its name to the All American Girls Professional Baseball League (AAGPBL) and in 1950, Fred Leo became the League President.
Made up of semi-pro softball players, teams formed in many mid-sized cities. The players weren't in fact girls at all, but young adult women (though I wonder if anyone raised an eyebrow about the league's name then - it was the 1950s, remember.) Teams like the Kenosha Comets, Racine Belles, South Bend Blue Sox and Rockford Peaches realized a level of professional athletic opportunity not previously known in women's baseball, or softball.
Budget cuts, and the emerging popularity of TV which brought Major League Baseball into people's homes led to the demise of the AAGPBL in 1954. The movie A League of Their Own brought the women players' story to a new audience in 1992.
To see what else is in The Fred Leo Papers, check out our online finding aid or come visit the library to see the collection for yourself. The AAGPBL Player's Association website also provides a comprehensive record of former players, teams and stats.