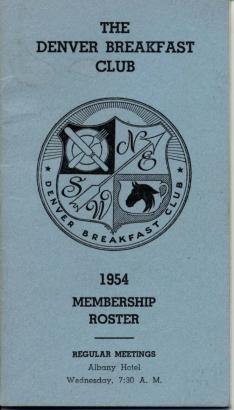 Working with the photographic collection is one of my dreams come true. Starting in Western History as a part time shelver where I fell in love with the digitization project (loved it so much that I stayed an extra hour my first day cruising the digital collection), and working my way into the photographic collection Sales and Research. I Hope you enjoy them as much as I do.
The first collection is, of course one of my favorite. But then again I'll probably say that about them all.
Denver Breakfast Club: CPhotoCollection 290
Denver Breakfast Club was incorporated in 1931 as a non-profit men's club. The Club met weekly at the Albany Hotel on Wednesdays at 7:30am.
This album is from the 1950-1957 which includes an Award from the Breakfast Club to Dave Rudolph and a 1954 newspaper article referencing Dave Rudolph and his jewelry business. He was named President of the Breakfast Club for the 1955 year. Tommy Thompson of Thompson Bookkeeping Service and Bud Hilker of Eastman Oil Well Survey Co., were named Vice Presidents and Bill Collins of Cinder Concrete Product Co. was elected Secretary-Treasurer.