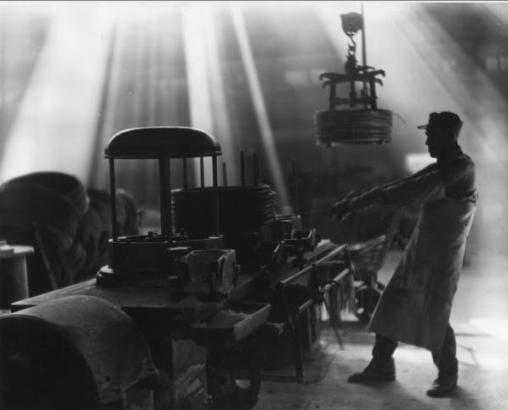 Photographs That Steal the Show
Sometimes, browsing through our photo database, a photograph stands out at first glance, simply because of its composition, dramatic lighting, or overall pattern. On closer inspection, it's details can almost seem like an afterthought to its initial impact. Here are a few of those kinds of photos.
The first image is an interior view of the Colorado Fuel and Iron Company, in Pueblo, Colorado, taken by Raphael G. Wolff sometime in the late 1950s. The florid title, provided by the photographer, fits the painterly content of the image, and reads: "Ribbons of gold under slanting ribbons of sunshine, the metamorphosis of steel wire is completed. Toilfully, man and machine will pull fat steel rods thru graduated holes-stretching rod steel into miles of antenna-like wire."
The second example is a picture of boys at a playground in Thornton, Colorado, taken by James Legget in 1976. This image caught my eye immediately because of the great contrast, repeated forms and regular patterns. Only on closer inspection do the boys show up, like  "Where's Waldo" characters, lost in all the dots and lines.
The circles, lines, lights and shadows of a kiva at Bandelier National Monument in New Mexico were captured by one of Mesa Verde National Monument's first Superintendents, Jesse L. Nusbaum, in about 1912. In addition to the dramatic composition of a few simple, contrasting shapes, because the image was recorded on a glass plate negative, gorgeous detail emerges on enlargement, using the zoom tool. A close-up of Julian Martinez, of the San Ildefonso Pueblo, is an entire photographic experience in itself. Our database contains over 350 of Nusbaum's images, crystal clear captures of the beautiful and mysterious Anasazi cultural legacy.
A tour of striking images would scarcely be complete without something from the inimitable Harry Rhoads, photojournalist, adventurer, and visual artist par excellence. Harry was the lead photographer for Denver's Rocky Mountain News for over 60 years, and entire exhibits and books have been dedicated to his work. So many of his pictures qualify as "striking," that finding a single sample was difficult only in having to eliminate so many more good ones. We have over 2,300 Rhoads images in our database, many more than can be appreciated in a single sitting. This night view of a fire at the Barnett Building on 16th (Sixteenth) and Larimer Streets in  Denver, in February 1932 is a perfect example of what a good photojournalist does: record the dramatic events of the time.
One of the most photographed locations in Colorado in the late 19th century was Royal Gorge - the spectacular 1,250 deep granite canyon of the Arkansas River near Cañon City, 10 miles long and at places only 50 feet wide. There are so many pictures of "Hanging Bridge," a favorite spot, that they could form a whole database of their own. Here is a striking look at a side canyon, from a glass plate negative by the team of Rose & Hopkins, landscape and portrait photographers based in Denver. The almost 650 Rose & Hopkins images in our database document a wide cross-section of images: people, events, and landscapes, all fascinating windows into the past.
The 1915 Panama Pacific International Exposition in San Francisco was in part, the city's effort to show the world that they were coming back strong from the devastating earthquake and fire of 1906. Visionary exhibits beckoned spectators to a glittering future full of sparkling electric lights, and idealized utopias with names like: The Tower of Jewels, Palace of Horticulture, Court of the Universe, Court of the Four Seasons and the Court of Abundance. Among the many spectacular constructions was the Bernard Maybeck Palace of Fine Arts, which stands to this day and is a breathtaking example of Classical Revival architecture. This image shows the Western Pacific, Denver and Rio Grande, Missouri Pacific, and the Iron Mountain Railways "Scenic Lines of the World" exhibit at the Palace of Transportation, and is typical of the fantastic scenes designed to awe the throngs of visitors. A search for "exhibitions" results in over 200 fascinating examples of what made people go "Wow" in the old days.