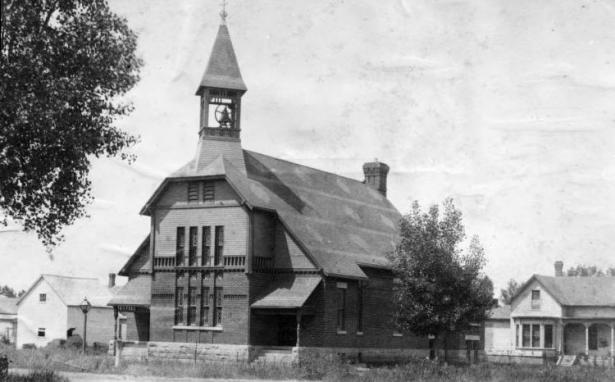 Photo Detectives Hard at Work
In our collection of some half a million photographs, many of them have nothing at all written on them, front or back, and we have to do research to find out where and when the photo was taken.
In some cases, sometime during the last 70 years, someone simply guessed, and put the photo in an envelope that matched their guess. In other cases, someone who owned the photograph before the Library owned it guessed, and wrote something on the back of the picture, or in the margin.
When we began the Photo Digitization Project back in 1995, part of our task was to create a detailed catalog record for each item that was to be scanned, and we still do this. This information includes everything we know about the photograph, what is written on it, and what our research has shown.
In many cases, we were able to fill in the blanks by comparing the photo to others, by matching a business name in the photo to an old city directory, or by looking at mountains or surrounding landmarks. In other cases, we were stumped, and the photo entered the database as "unidentified," or worse, misidentified.
In the early years of the project, one difficulty we had was that photos took a long time to go from being scanned to being online and searchable. It was difficult to research a photo using our own database, a problem that happily, we no longer have.
Now, with our online database fully operational, we have a new and powerful tool to identify these photos. That tool is the public – the end users of the database. Among the millions of eyes perusing our collection, many have caught problems, and we are happy to make the corrections when we find out. Quite often the corrections are obvious and require no further corroboration – and this is the story of one.
This photo of the Park Congregational Church in Greeley, Colorado, had "Granite, Colorado" written on the scrapbook page it was glued to, and the cataloger gave it that title – as is our protocol.
Recently, a customer noted that in comparison to our other photos of Granite, this image appeared to be somewhere else entirely. Using the database as a research tool, we quickly found other photos of the same building, searching with keywords "church," "bell tower," and "windows."
One remarkable feature of the building was the final proof: the bell tower is at a 45 degree angle – an unusual feature that matched our other two photos. Of our three images of this building, this one is the best, and it's a great feeling to have them united as they should be. The image now is correctly titled, and the incorrect information from the album page is recorded in a note.
We value customer feedback, and welcome opportunities to "fine tune" our database. If you find discrepancies or information that you think is incorrect in our photo database, please contact Western History Staff and we will look into it. Countless people scouring the photos and doing their own comparisons is a powerful editing process that our staff could never achieve, and we are more than happy to incorporate these corrections, no matter how small.