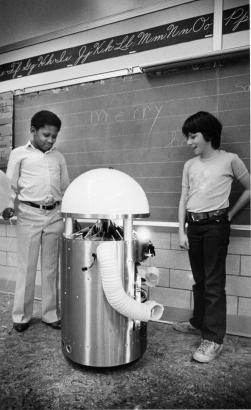 Rocky Mountain News Archive
Photo by Frank Murray - December 15, 1982
Caption on back of photo:
F.A.M.E. (Fully Automated Mechanical Entertainer), the robot, gives spelling quiz to Cory Elementary School Students. Students are: James Grisby and Christian Gore.
The Children at Cory Elementary School are so fascinated that they don't notice the man, Al McKittrick, in the corner, talking into his hand. He has a tiny microphone up his sleeve and controls the robot with a small remote device in a canvas bag. Owners Al McKittrick and David French usually entertain at parties, trade shows and grand openings. McKittrick believes it may be the first time any robot has given a spelling test.