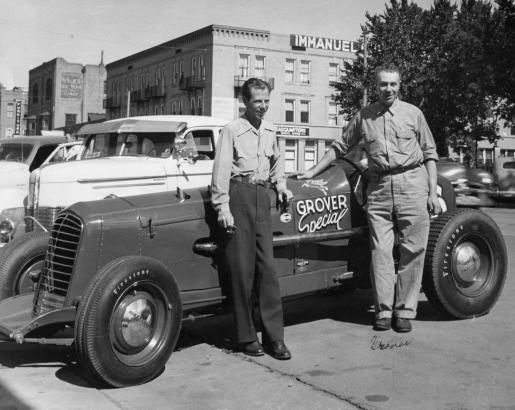 The Grover Special was quite the race car built for the Pikes Peak Hill Climb.
In the 1948 climb, the  Grover Special finished in 2nd place 16:33.2 driven by Herb Bryers. In 1949 the car is piloted by Charles Bryant and came in 3rd place at a slightly better time of 16:28.62. What made this car so special was that unlike most of the other drivers with their imposing names and price tag, this car was handmade without all the bells and whistles and still won races. The Grover Special aside from the camshaft custom ground, was wholly the product of Mr. Grover's fine workmanship. It featured a 1941 Chevy truck block. It had three Ford "97" carburetors and a stock Chevrolet head which Grover modified himself. The ignition was a battery using two coils.
Mr. Grover himself was no stranger to the racing game. At one time he was well known in the motorcycle racing circles. If you look back at former winners of Pikes Peak Hill climb you can find that one W. A. Grover finished 3rd in 1930, in a Durant, in the time of 26 minutes and 18.1 seconds.
This photo is of William A.  Grover and Art Wilcox taken in Colorado Springs.
Photograph and album donated by Kay Henley of Tahlequah, OK in 1997.