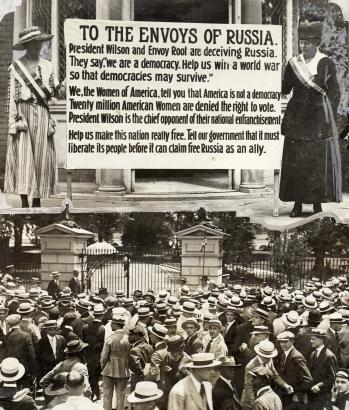 Everyone has heard of the March on Washington that involved Martin Luther King, but did you know that there was an early one made up by female suffragettes? This march started in New York and ended in Washington DC in 1913, 100 years ago. It was organized in conjunction with the National American Women Suffrage Association (NAWSA) and formed a six state parade to end the day before President Woodrow Wilson's inauguration. By the time the women made it to Washington DC, they had gathered over 800 women marchers, ten bands, and twenty-six floats. After a good beginning the women were confronted by large groups of jeering men blocking the parade routes. The situation became unruly to the point of near riots. In the end there were over 200 people hurt and treated in nearby hospitals. Since the women received no help from the police, in fact many of them were part of the mobs, there was a Senate hearing into the incidents, leading eventually to the firing of the District's superintendent of Police. All in all the March was a success. Afterwards the NAWSA commented:
The whole movement in the country has been wonderfully furthered by the series of important events which have taken place in Washington, beginning with the great parade the day before the inauguration of the president.
These photographs are part of the Max collection.