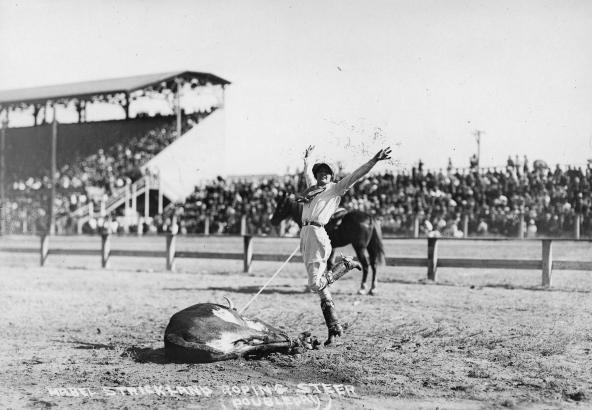 Fall is shaping up real nice here in the Rockies. State Fairs are in full swing and the rodeos are coming to town. Speaking of rodeos, this brings to mind my favorite cowgirl, Mabel Strickland. Recently I found a great image of her in our non-digitized collection. I've also added a few that are online, including one of her, as well as, Vera McGinnis, Monna Cowan and Josephine Wicks, all at the Pendleton Round-Up. Mabel had a 25 year rodeo career and later received honors from various Halls of Fame including her own "Mabel Strickland Cowgirl Museum" in Cheyenne, Wyoming.  Mabel DeLong was born in 1897 near Walla Walla, Washington. Her father, a boot maker, introduced her to the rodeo world at a very early age. By her teen years she was an accomplished horsewoman. In 1916, George Dumheller, recruited her to accompany his racing entourage and compete as a relay rider.
In 1918 Mabel married Hugh Strickland, a famed bronc rider and calf roper. He even taught her to rope steers and calves. They were quite a team. In 1926 she was the first and only woman ever to be featured on the cover of the Cheyenne Frontier Days program. Here is a copy of the program that the Denver Public Library, Western History Collection actually owns. In 1922 she won many rodeos and the important McAlpin Trophy.
In the 1930's she and Hugh went on to make their names in Hollywood. She performed in movies and did stunt work for leading actors and actresses. She even had a small part in "Rhythm of the Range" with Bing Crosby. In 1935 the women working as trick and stunt riders organized into the Association of Film Equestriennes. Mabel was the president of the association, which included Bertha Blancett, Vera McGinnis, Bonnie Grey and Dorothy Morrell. Hugh died in 1941 and eventually Mabel remarried to Sam Woodward and moved to Arizona, where she stayed active in the state and National Appaloosa Horse Club. She can be found in many of the Cowgirl Halls of Fame for her wonderful work as our National Cowgirl Champion. She passed away in January 1976 and her ashes are scattered over the hills near Buckeye, Arizona.