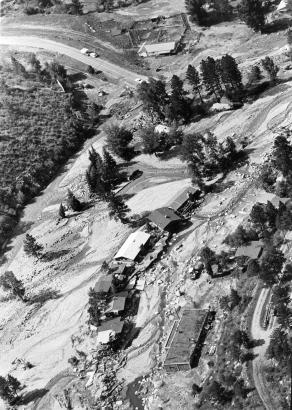 The 37th Anniversary of the Big Thompson Flood of 1976, the most deadly flash flood in Colorado history, was observed on Wednesday. On July 31, 1976, around 4,000 people had gathered in Estes Park to celebrate Colorado's Centennial. It had been raining all day, receiving somewhere around 12 to 14 inches in over a 4 hour period. By 9:00 p.m., water in the Big Thompson River went from an average depth of 18" to a 20-foot wall of water surging down the canyon. The result was the flood that took 144 lives and injured 150 people. Bodies were carried as far as 25 miles away. The flood caused $35 million in damage, destroyed 418 homes and 52 businesses, over 400 vehicles, and most of the bridges, roads, highway and power/telephone lines that were in its path.
The legacy of this event can be seen in the signs that convey the message "Climb to Safety" in case of flooding. Instead of climbing, many who died had tried to drive out ahead of the storm.
These photographs are all from the Rocky Mountain News. I am so amazed at the volume and variety of these photographs. This is truly a find for the collection as we have not had any Big Thompson Flood photos in the collection previously. What a truly remarkable collection that we are so glad to have.