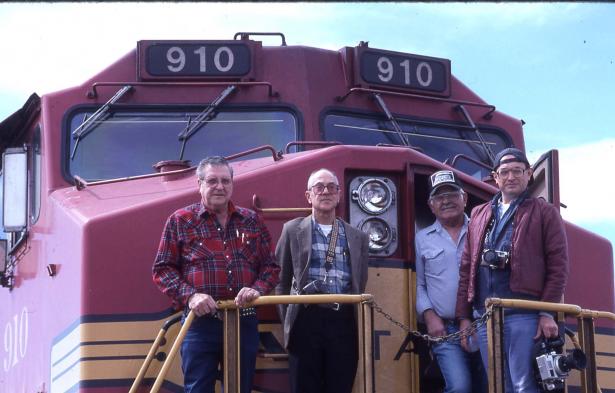 This is one of the most important Railroad collections that the Denver Public Library owns. Augie not only was the photo curator, he was instrumental in researching and starting our photo digitization program. It was his idea, and baby, to begin scanning and offering Internet access to the Otto Perry Railroad Collection. He died before the project was fully functional, but since then, the Denver Public Library has been leading the way in technology and digital scanning.
The August Mastrogiuseppi's Photo Collection was worked on by my two amazing volunteers, Charles Albi and Steve Patterson, both railroad aficionados. Due to their diligent work, they organized boxes of slides and negatives. They reduced and sorted an overwhelming amount of images, into a finding aid listing 4,968 35mm slides, which makes the collection fully searchable.
These images record railroad activities observed by Augie, from about 1970 to his passing, in late 1996. Images include railroads from his home state of West Virginia to California. The majority of the images are of Colorado railroads. Augie witnessed and photographed a wide variety of railroad operations, and had a special interest in RR cars. He took images that would supplement where Otto Perry left off with his death in the 1980's.
According to Steve, one of his most unusual captures was a detouring Amtrak "San Francisco Zephyr" Train No. 6 on the Dent Branch between LaSalle and Denver, pulled by famous steam locomotive UP 8444. It was not an excursion, but a daily passenger train on a branch line at Frederick, Colorado. That branch is now abandoned and gone. Also in the railroad photographs, are one of seven rare SP dome cars.