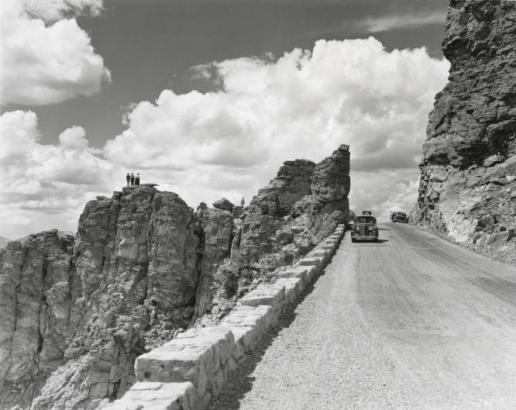 Anyone who has spent time with computers knows that occasionally, things don't work out exactly as one might have intended. A single wrong keystroke somewhere in a sea of code can wreak havoc, and then in turn, take a lot of time to sort out.
Our online database contains some 130,000 images, and about three years ago, 15 years after we first activated the collection, we transitioned the entire body of material into a new management software, called "ContentDM." Among many improvements, the new platform allows a user to zoom-in to images and see greater detail; it has a way to create a favorites list; it allows users to create their own tags and ratings; and it provides much greater behind-the-scenes sorting and editing capabilities.
For a number of various reasons, the migration of the database resulted in sizeable number of items that had lost their connection between the image file and the "metadata" that provides the title, call number, creator, content, and other useful information. In addition, even before the move, we also had a number of "broken" images - titles showing an error placemarker where a thumbnail should be. These problem records came to be known as "Orphan Files," and consisted of about 4,500 individual items.
The migration to ContentDM was like a "parting of the clouds" - suddenly we were able to bring all of the broken items together in one folder. We could sort them, isolate the problems, and fix many of them in large groups, with "global" editing capabilities.
This process took about three years, involving the efforts of several team members, each with an array of other work responsibilities, meaning that the "Orphan Project" progressed in halting and sporadic steps. The process of sorting the list of problem items, identifying and noting the various types of error that existed, and establishing a work flow, took almost a year in itself. Many items were repaired by mining our outdated but useful collection of compact discs, which had been created way back in the early 1990s when the project began. The easiest to repair only needed code editing - fixing a typo. Many other items needed to be re-scanned, a much larger hurdle.
The photographs on the left are a few of the favorites I noted during my extended combing of the files over the last three years, and there are a many more.
The first is an iconic Colorado scene, taken on Trail Ridge Road in Rocky Mountain National park in the late 1930s. Trail Ridge Road, a stretch of U.S. Highway 34, is the highest continuous paved road in the United States. Also known as Trail Ridge Road/Beaver Meadow National Scenic Byway, it traverses Rocky Mountain National Park from Estes Park, Colorado in the east to Grand Lake, Colorado in the west. It was first made passable to automobiles in 1921, and reached its finished form in 1938.
The next two items are publicity photographs made by the Winter-Weiss Company, who manufactured custom truck bodies, trailers and buses. You don't often see a Harley Davidson motorcycle with a bellows camera sidecar, or an Indian Motorcycle sporting a milk bottle. We have a large number of interesting and unique vehicles in our collection, worthy of their own whole category of blog entries. These would turn as many heads today rolling down the street as they did then - but now it would be on youtube in minutes.
The photo of an Argentine Central Railway train at the summit of McClellan Mountain is a stunning testament to the triumph of technology over nature - to drive a train to the top of a mountain was the epitome of the industrial vision. Edward Wilcox (namesake of nearby Mount Wilcox), who owned a mining company and was a minister as well, built the nearby [ghost] town of Waldorf around 1900. From 1905-1906, he established the Argentine Central Railroad for transporting silver ore. Wilcox saw a way to make the area pay from tourist dollars as well. He extended the railroad so that it took people up McClellan Mountain to a notch north of the summit, and this image shows the passengers enjoying the view from the 13,587 foot peak.
Part of the orphan group was a number of William Henry Jackson photochroms. 
"Photochrom," an early colorization technique, involved combining a glass negative with the color lithography process. The photos selected for the process were always the most iconic, and so they're all great pictures. This photo of Mission San Juan Capistrano in San Juan Capistrano, California, was one of the almost 20,000 views offered by the Detroit Publishing Company. There was a craze of collecting these in the 1890s, and tens of millions of them were sold. Browse through the some 200 of them in our database, by searching "photochrom."
Good ole' Harry Rhoads. The good-natured Rocky Mountain News journalist captured images of every kind from the 1890s to the 1950s - and his jovial nature is often reflected in the faces of his subjects, like this woman with her puppy dogs. 
The second Rhoads photo here not only shows some great old cars [a 1910 Maxwell!] and women with amazing hats, it shows what happens to glass negatives when they get damaged in one way or another. Many of the greatest Rhoads photos from the era have this kind of deterioration - one wonders if they were all in a box together and then got wet.
Fred Trinkle poses in a W.H. Kistler Stationery Co. delivery truck, another classic early vehicle.
The interior photo of the Denver Post Office at 1823 Stout Street has a lot of contrast and bold shapes, and conjures ideas about how ground mail was once an exciting and bustling enterprise.
Firemen in uniforms pose with their new fire engine, outside the firehouse door of Company No. 2, in Colorado Springs. It's identified as the first motorized fire engine in the Springs, and was purchased at a cost of $2476.50. The pinnacle of every boy's fire truck fantasies, this gem, in mint condition, would probably sell today for a hundred times that price.
Finally, a billboard at Camp Hale, training grounds for the legendary 10th Mountain Division, the crack soldiers-on-skis team that fought the good fight in WWII Italy. This caricature depicts the general impulse of the United States military towards unjust aggressors, back when it was much easier to pinpoint them.
[Be sure to click on the photos to the left to see larger versions.]