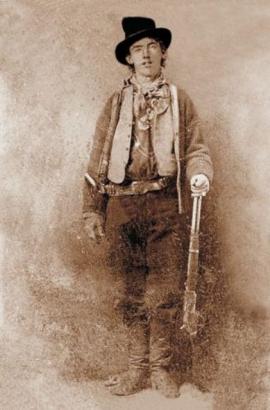 Before Warren G, Doctor Dre, and Snoop Doggy Dog had a stint as modern day "regulators"; there was Billy the Kid, Doc Scurlock, and Jose Chavez y Chavez. The original Regulators. In 1878 in New Mexico Territory, a conflict took place that would later become known as the Lincoln County War. The conflict arose between two factions over the control of dry goods trade in the county. The older more established faction, often referred to as The General Store Monopoly, was a group run by organized "business men" Lawrence Murphy and his partner James Dolan. These men ran and completely controlled a lucrative empire that manipulated all the dry goods sales in Lincoln County. The Murphy-Dolan faction were allied with Lincoln County Sheriff William J. Brady, and supported by the Jesse Evans Gang.
The new comers and competing faction in the dry goods war were led by wealthy Englishman William Tunstall, young attorney Alexander McSween and one of the most famous cattlemen ever; John Chisum. In 1876, these men opened a general store to directly compete with Murphy and Dolan. After a legal court battle in 1878, Murphy and Dolan sent Jesse Evans and his crew to gun down William Tunstall. After Tunstall's death, several of his men formed a vigilante group called The Regulators. The main group of men in the Regulators were known as the "iron clad" and they were: Richard "Dick" Brewer, Frank McNab, Doc Scurlock, Jim French, John Middleton, George Coe, Frank Coe, Jose Chavez y Chavez, Charlie Bowdre, Tom O'Folliard, Fred Waite, Henry Newton Brown, and the bandit of all bandit's; Billy the Kid. After the group was formed, the Murphy-Dolan gang and The Regulators murdered one another with wanton abandon killing 21 men in all and forging the outlaw reputation of Billy the Kid.
The Lincoln County War has been brought to the big screen many times by Hollywood producers. Most notably in 1970's Chisum, starring John Wayne. And again in 1988 with the movie Young Guns, starring Emilio Estevez as Billy the Kid, Kiefer Sutherland as Doc Scurlock, Lou Diamond Phillips as Jose Chavez y Chavez and even a young Charlie Sheen has a role as Dick Brewer.