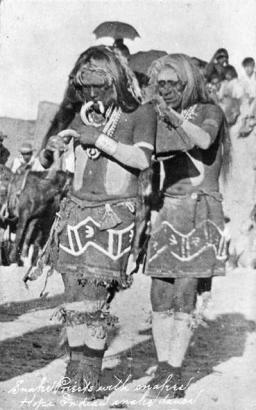 Nineteenth Century in Arizona
The W.H. Kelley collection, WH1627, consists of a handwritten looseleaf journal.  Conveniently, it also contains a typewritten transcription.
In 1895, Kelley, editor of the Mancos Times, accompanied the Wetherill brothers, Richard and Clayton, on a trip to northern Arizona.  He produced a journal of this trip detailing day-to-day events.  The Wetherills, already famous for the discovery of Mesa Verde, were headed to visit modern Indian tribes and study their cultures.
Descriptions of vegetation, the landscape, various trading posts and people ranging from Mormons in a pristine settlement to Navajo hogans next to modern dwellings of missionaries and schools fill the first part of the journal.  Kelley documents burial and marriage customs as well as the food offered by Indians on his journey.  A careful observer, he watches meal preparation, writing recipes including which foods need chewing before boiling and how to produce various sizes of metates.  The sheep chips used for fueling the cooking fires seemed to add to the flavor of the food.
Securing Navajo guides, the expedition traveled through canyons, past cliff ruins, camping as they went.  The Moqui or Hopi Indian villages were their final destination.  There, Kelley appreciated the unique pottery produced by the women and observed a Snake Dance.  Intrigued by this ceremony, he filled many pages of his journal with details about the snakes and the dancers.  Incidentally, he provides clues about native antidotes for snake bites.
Kelley called it "a strange trip into a strange land."  His prose is easy to read and betrays nineteenth-century attitudes.  For example, he praises the Wetherills for their collection of artifacts gathered from Mesa Verde, while modern-day anthropoligists might mourn the removal of these items from their surroundings.  The journal is available for research in the Western History Department of the Denver Public Library.