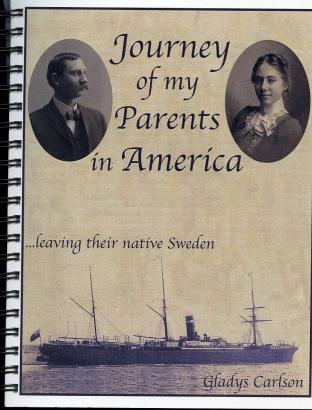 I have a dirty little secret.  For years friends have asked that I reveal something about myself.  Well here goes.  I am a Goodwill junkie.  That is right, I shop at Goodwill.  There are several in the Denver Metro area that are pretty high on my list.
I have found antiques, brass candlesticks, Williamsburg reproductions, fine art prints, and books.  I am always finding books.  I can not bear to pay full price for books since I discovered Goodwill.
This past weekend I found another treasure to add to the Genealogy Collection.  It is Journey of My Parents in America...Leaving Their Native Sweden by Glady Carlson. Her parents, Eric Carlson and Hulda Gustafson. Eric came from Orebro in Narke while Hulda hailed from Tidaholm in Vastergoteland.
This work is a loving tribute by Gladys to her parents and the lives they left behind and the ones they forged in America. If you are looking for an easy example of how to relate your own family stories for generations to come then you may want to look at Journey of My Parents.