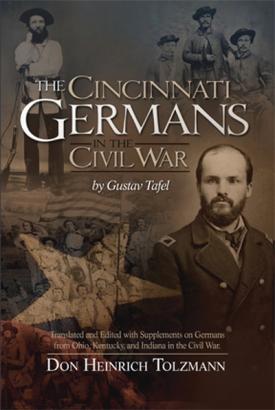 I think of Cincinnati and the early German community. This past spring the National Genealogical Society held its annual conference in this "Gate Way to the West." The lectures were terrific and the vendors had wonderful books for sale.
Come in and see all of the lovely new titles that have been arriving over the past few weeks.  Researchers should enjoy Fantastic Shadows Upon the Ground by Greg Fugit. It is a history of the 35th Ohio Volunteer Infantry during the Civil War.
Don Tolzmann has several new books available including Christian Moerlein the Man and His Brewery and Cincinnati Germans in the Civil War by Gustav Tafel and translated by Tolzmann.
Barbara Dixon has written an informative study A Forgotten Heritage: the German Methodist Church.
S. T. Simms has compiled Common Valor a look at the Ambush at Srok Rung November 7, 1967. It is about the role of the 1st Battalion of the 26th Infantry.
Gary L. Knepp Beyond the Names: a Tribute to Clermont County, Ohio and the Vietnam War Dead rounds out this selection.
Common on down and see what is new!