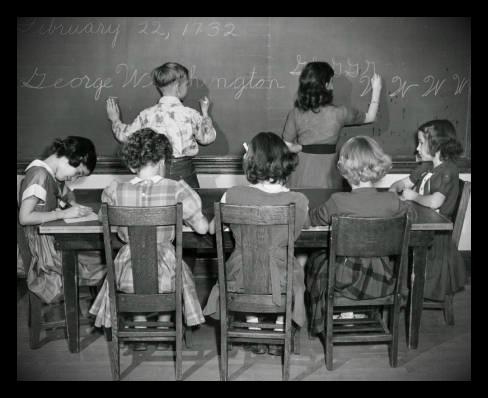 NEW! Exhibit: Back to School in the Archives
Pop quiz! How did kids let loose on the playground in 1910? Were there actually horse-drawn school wagons before buses? Just how big was a computer in a 1980 high school computer class?
Find out the answers to these questions and more by checking out a new display in Central Library's Schlessman Hall (Level 1)! Back to School in the Archives provides a fun glimpse into bygone school days using historic photographs, papers, pamphlets, and textbooks from DPL's Western History & Genealogy Department.
Focusing on life in Denver-area schools, this exhibit paints a picture of the curriculum and technologies experienced by students during the late 19th and early 20th centuries. While reading, writing, and arithmetic were staples of the education system, students also attended classes often absent in today's course catalogs, including blacksmithing, sewing, typing, cooking, and carpentry.
On display through the end of September, Back to School in the Archives commemorates American Archives Month (October). If you've ever wondered what kinds of materials are in archives and how they are preserved, check out this link from the Society of American Archivists or stop into DPL's Western History and Genealogy Department on the 5th floor of the Central Library.