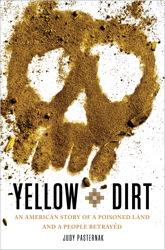 New Books in Western History (9.29.10)
Columbia University historian Mae Ngai's The Lucky Ones: One Family and the Extraordinary Invention of Chinese America saw (largely) favorable reviews in such newspapers as the San Francisco Chronicle, the Washington Post, and the New York Times. Copies are on order for circulating collections and for the Western History & Genealogy Department.
In Yellow Dirt: An American Story of a Poisoned Land and a People Betrayed, former Los Angeles Times report Judy Pasternak's examination of the consequences of uranium mining on the Navajo nation, has been reviewed in her old newspaper's pages, as well as the Christian Science Monitor and Salon. A substantial article in the Farmington Daily Times details Pasternak's recent trip to Shiprock. Copies are available in the circulating collection. A copy has been ordered for Western History & Genealogy.
Finally, in Carry the Rock: Race, Football, and the Soul of an American City, former Sports Illustrated reporter Jay Jennings spends a season with the team at Little Rock High School, scene of one of the most dramatic moments of the Civil Rights era. Reviews have appeared in the New York Times and the Wall Street Journal. Copies are on order.