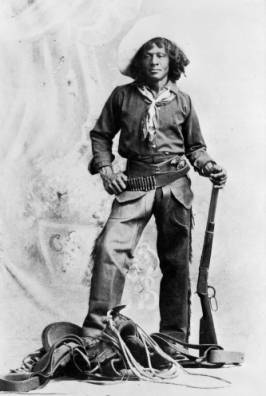 Born a slave in Davidson County, Tennessee in 1854 Nat Love grew up to be a man that led an amazing life. As a young boy, although outlawed by slavery statutes, Nat Love was taught to read and write by his loving father, Sampson, at an early age. When slavery ended after the Civil War, Sampson Love set out to start a family farm with the help of his young son Nat. But shortly after they planted crops of tobacco and corn Sampson died. Overwhelmed by the responsibilities of running the family farm, young Nat was forced to take several odd jobs to help he and his mother survive. After working those jobs for a few years, Nat would change his life forever. By luck, Nat won a horse in a raffle and then promptly sold it for $100. He gave half of the money to his mother and with the other half he wished his mother well and headed west to start a new life.
Love made his way to Dodge City, Kansas where he became a partner in a cowboy outfit from the Duval Ranch based out of Texas. Nat quickly learned to ride, rope, and shoot. And because of his excellent skills on a horse, he earned the respect of the cowboys and was invited to work with them in the Texas panhandle. 
After completing his work in Texas, Nat ventured north to the outlaw town of Deadwood, South Dakota in 1876. Once there, he entered a rodeo competition. Love proved his mettle as a real deal cowboy by winning the rope, throw, tie, bridle, saddle, and bronco ridding contests. His wins made him so popular that he got the name "Deadwood Dick" from the large crowd and the nickname followed him the rest of his life.
Following his time in Deadwood, Nat made his way south to Arizona in 1877. While rounding up cattle near the Gila River, Love was attacked by Pima Indians. After a fitful battle, Nat was captured but his life was spared because the Pima respected his ability to fight. After a brief period, Nat was able to escape and steal a pony that he rode into West Texas. After those adventures, Love would spend the latter part of his life working as a Pullman porter for the Denver and Rio Grande Western Railroad. He died in Los Angeles in 1921.
Nat Love led an extraordinary life and should always be remembered as a true pioneer and an authentic western original.
Check out the library's catalog for more info on the great Nat Love.