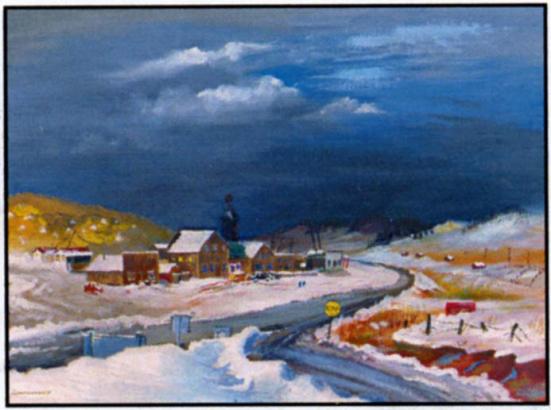 Nadine Kent Drummond Art Exhibit
 This exhibit will feature numerous paintings from the Drummond family's private collection, as well as works on loan from the Kirkland Museum of Fine and Decorative Arts in Denver and the Fine Arts Center in Colorado Springs.
The Drummond family has made available 50 first-run, limited edition prints of the guache painting Divide, circa 1930, for $350.00. To order: call 719-686-7605 or email THE@TheCoalitionCo.org.
All proceeds from the sale of the prints will support the Teller historic and Environmental Coalition's Midland Depot at Divide Preservation Project. THE Coalition is a 501 (c)(3) nonprofit corporation.
The Denver Public Library has one Nadine Kent Drummond painting, titled "Southern Colorado Farm Sale". It is in public view on the 5th Floor Western History/Genealogy Department. Come in and see it!