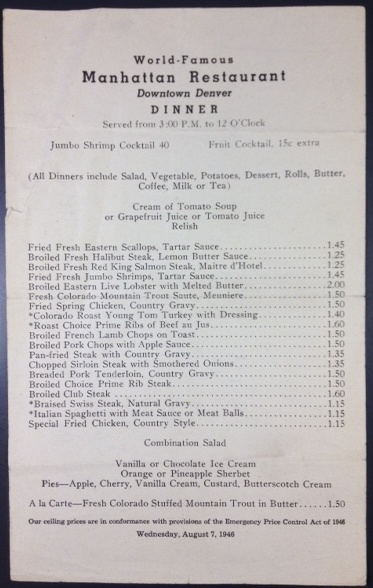 We've seen a lot of students in the library lately doing research on food or some variety of, shall we say, "gastro-history."  Thanks to our Archives volunteer, Joe, we've recently reorganized our ever-popular 18 box Menu Collection.  Examples range from downtown hotel bars from the early 20th Century (and even earlier) ​to a Pagliacci's menu, added to the collection when the 66 year-old Italian restaurant closed in 2012.
How do researchers use our collection? A century of menus can inspire chefs to recreate classic dishes, or combine ingredients in new (old) ways. For historians, menus provide evidence of the availability of food in particular places and times. Even biologists can use menus to understand the prevalence of certain game, plants, and fish, at various times of the year. Sometimes, genealogy research relates to food, when family recipe traditions connect to an ethnic or geographical heritage.
What can the Menu Collection help you cook up?