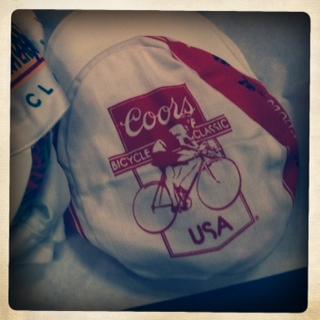 With the flowers blossoming and spring sunshine warming our winter bones come thoughts of...BICYCLES!  This is the perfect time of year for getting out, hopping on a bicycle and touring our beautiful city.  
 
This week's featured manuscript collection is the Coors International Bicycle Classic.  In 1975 Celestial Seasonings tea company started the Red Zinger Bicycle Classic.  Within two years the race became the largest amateur bicycle race America.  In 1980 Coors Brewing Company took over sponsorship, and the race was renamed the Coors Classic.  The race continued until 1988.
 
The Coors International Bicycle Classic collection contains many exciting items, such as postcards, posters, bumper stickers, cycling caps and jerseys, yearbooks, ribbons, and even 45 RPM phonograph records with the theme song from the event.  You can view an inventory and more history of the contents and history of the collection online, or at the Western History & Genealogy department.