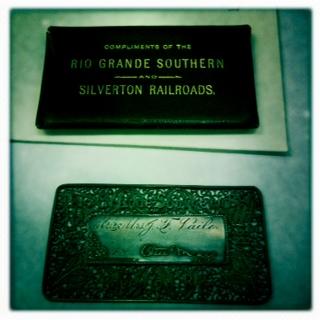 Manuscript Monday: Railway Passes
 Did you know that railroad passes used to sometimes be made from silver, gold, and even buckskin?  The Railroad Pass Collection contains silver and paper railroad passes, tickets, correspondence and transparencies from 1892-1963.  The silver passes, issued by railway magnate Otto Mears, were for routes on the Silverton Railroad and the Rio Grande Southern.
To learn more about the Otto Mears passes, come take a look at "The Otto Mears Passes", a pamphlet by Josie Moore Crum.  Crum gives detailed physical descriptions of the passes, and provides history and stories about their creation and uses.
This collection is located in the Western History & Genealogy Department of the Central Library.  Come visit!