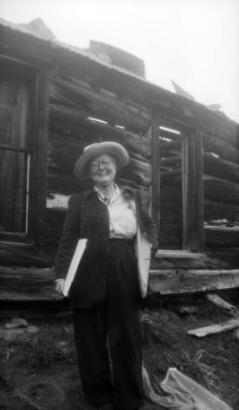 Manuscript Monday: Muriel Sibell Wolle
Muriel Sibell Wolle (1898-1977), originally from New York, earned her master's degree in English Literature from the University of Colorado at Boulder.  Among her many other achievements, she went on to head the English department there.  After touring Central City, Colorado, in 1926, Wolle became enamored of western mining and ghost towns, which she studied in detail.  Her collection (WH906) is comprised of notes, articles, clippings, interviews, and much more.  Wolle wrote several books, including Stampede to Timberline, The Bonanza Trail, Montana Pay Dirt, Ghost Cities of Colorado, and Timberline Tailings.  Read more about Muriel Sibell Wolle in the online finding aid.  DPL also has some of her artwork in the WHG department and online in the Digital Collections.
This collection, along with many other amazing collections, books, photos, and oodles more, are available in the Western History and Genealogy department of the Central Library.