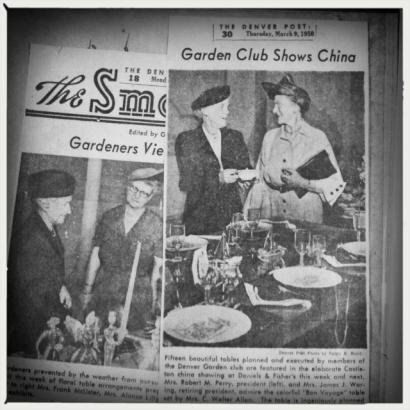 Manuscript Monday: Garden Club of Denver
 The Garden Club of Denver has been around since 1916, a year when the club's 23 members paid a membership fee of $1 each.  The Garden Club has participated in many civic endeavors, including planting and maintaining gardens and trails, hosting events and fundraisers, and travelling to meet with other clubs.  The most notable Garden Club project is the Denver Botanic Gardens.  The Botanic Gardens was created with the cooperation of the Colorado Forestry and Horticulture Society  in 1951.
 
The Garden Club of Denver Records (call number WH1263) contain club papers, photographs, memoranda, meeting minutes, programs, scrapbooks and more.  This collection is available in the Western History & Genealogy Department of the Central Library.  Stop by to learn more, and check out our online finding aid.