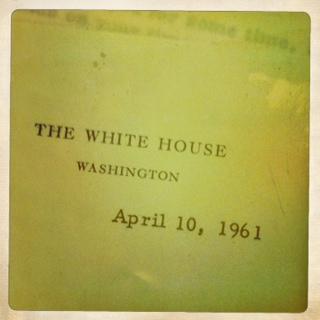 Manuscript Monday: Edwin Palmer Hoyt
 
Edwin Palmer Hoyt, originally from Illinois,  began his career in journalism as a copy editor for the Portland Oregonian.  During his time with the Oregonian, Hoyt eventually become editor and publisher.   From 1946-1970 he was the editor of the Denver Post.  Hoyt was also involved in government, serving under President Franklin Roosevelt in 1943 as director of the Domestic Branch, Office of War Information.  In 1947 President Truman appointed Hoyt to the Air Policy Commission, and in 1968 Hoyt was appointed to the United States Advisory Commission on Information by President Johnson.  
Hoyt's papers are chock full of correspondence, clippings and research regarding an array of people and events primarily during the 1940's-1970's.  These topics and individuals include Denver Post speeches, the atomic bomb, John F. Kennedy, Vietnam, Richard Nixon, Lyndon B. Johnson, Joseph McCarthy, and many more.
For further biographical information, as well as other items in the collection, take a look at our finding aid.  This collection, as well as hundreds of other manuscript collections, books, photographs, art and more, are available in the Western History & Genealogy department of the Central Library.