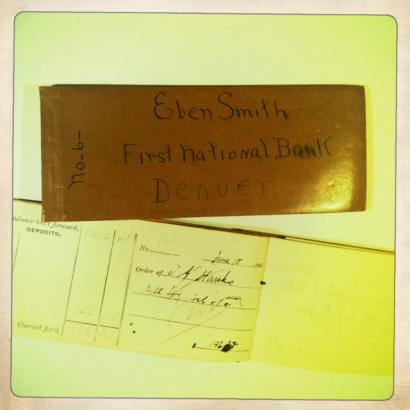 Manuscript Monday: Eben Smith
Eben Smith, born in 1831 in Pennsylvania, started out in the mining business as a major player in the California gold rush in the 1850's.  He made his way to Colorado in 1860, where he made a fortune, lost it, and made it again with a little help from his friends, who included Jerome Chaffee and David H. Moffat.  Smith's mining ventures included the Mine and Smelter Company, the Victor Gold Mining Company, Anaconda Mine, and more, and also held investments in several California companies.
Smith's collection contains a wide variety of personal and business papers, bank books, receipts, correspondence and more.  The receipts are wonderful specimens from the turn of the century.  Learn more about Eben Smith and his collection in our online finding aid.
This collection, and others, are available at the Western History and Genealogy Department of the Denver Public Library.