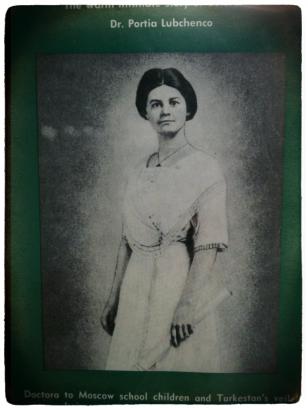 Manuscript Monday: Dr. Portia Lubchenco
Portia Lubchenco was born Portia McNight in South Carolina in 1887.  It was there she recieved her education in business and teaching.  She was the first woman to graduate from North Carolina Medical College in 1912.
After she finished medical school, Portia married Alexis Lubchenco, a Russian agronomist whom she'd met in South Carolina while teaching school.  The couple moved to Russia, where they lived and worked until 1917 when the Bolsheviks took power during the Russian Revolution.
In the United States the Lubchenco family moved first to  Blythewood, South Carolina in 1918, then to Haxton, Colorado in 1931.  From Haxton the family moved to Sterling Colorado.  Dr. Portia Lubchenco practiced medicine during her time in these cities.  She eventually became the first chief of staff at the Good Samaritan Hospital in Sterling.  After moving to Denver in 1966, Dr. Lubchenco continued her practice until her retirement in 1972.  She passed away in Denver in 1978.  You can read more about Portia and the Lubchenco family in our online finding aid.
The Portia Lubchenco collection includes correspondence, photographs, lantern slides, certificates, naturalization papers, travel diaries, memoirs and a scrapbook.
More information on Dr. Portia Lubchenco in the book "Doctor Portia" by Anna C. Petteys, available in the Western History and Genealogy Department of the Central Library.