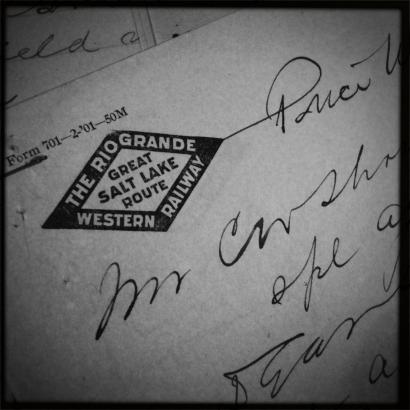 Manuscript Monday: Cyrus "Doc" Shores
Cyrus "Doc" Wells Shores was named after the doctor who delivered him in 1844 in Hickville, Michigan.  Shores grew up in Michigan, and worked many jobs (mule train driver, bull whacker, manual labor) as he made his way through the West. After a time in the cattle business in Texas, Shores moved to Gunnison County, Colorado, where he served as sheriff from 1883-1891.  
Some of the most interesting artifacts in this collection are Shores' correspondence from his time as a special agent for the Denver and Rio Grand Express, which includes letters and telegrams involving crimes, robbers, gangs, investigations, and so on.
Shores also penned many autobiographical stories later in his life.  Many of these narratives are included in this collection.  You can also see Shore's stories in the book "Memoirs of a Lawman," edited by Wilson Rockwell.
Read more about Shores in our online archive finding aid.  This collection, along side loads of others, is available in the Western History and Genealogy Department of the Central Library.