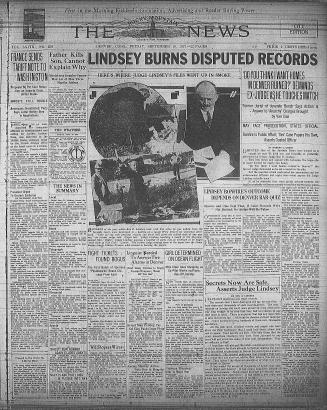 Manuscript Monday: Benjamin Lindsey
Benjamin Lindsey became a lawyer in Colorado in 1894.  He established the first juvenile court in Colorado, and advocated for unique treatment of juvenile offenders, arguing that juvenile punishments should not be the same as those for adults.  Read more about it in the online finding aid.  You can see a photos of Benjamin Lindsey in our Digital Collections
The photos in this post include an article from the Rocky Mountain News on September 16, 1927, when Benjamin Lindsey burned heaps of court records in a blazing fire to protect the privacy of those involved.  He lit the match himself!
Benjamin Lindsey's collection includes correspondence, newspaper clippings, speeches, brochures, reports, and transcripts.  This collection, along with gobs of others, can be found in the Western History & Genealogy Department of the Denver Public Library.