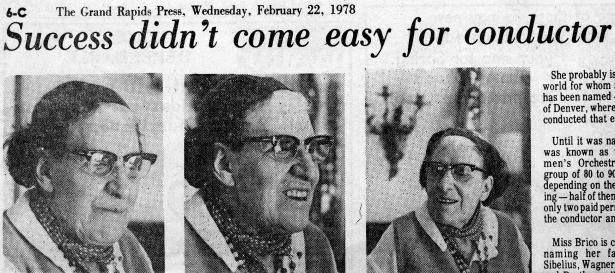 Manuscript Monday: Antonia Brico
Antonia Brico (1902-1989) was born in the Netherlands of Italian and Dutch parents, and immigrated to the USA in 1908.  After attending high school in California, Brico graduated from Berkely College of Music and the Berlin State Academy of Music.  She went on to become the first woman to conduct the Berlin Philharmonic and New York Philharmonic.  She worked all over the world, in cities such as Milan, Copenhagen, Viena, London, San Francisco and many more.  She transcended gender roles and overcame discrimination, saying "I do not call myself a woman conductor.  I call myself a conductor who happens to be a woman."
Brico moved to Denver in the 1940s.  Here she continued to work as a teacher, lecturer and conductor of the Denver Businessman's Orchestra, later renamed the Brico Symphony.  Of the many people Brico taught and inspired, one piano student, Judy Collins of Colorado, went on to create a documentary film honoring the conductor's life.  "Antonia: A Portrait of the Woman" was released in 1974, and caused a surge of interest in Brico.
 
The Western History/Genealogy Department of the Denver Public Library has two manuscript collections featuring Brico.  The Antonia Brico Reference Collection, 1930-1986 (WH1731), includes correspondence, newspaper clippings, and concert program notes.  The Brico Symphony Scrapbooks, 1948-1982 (WH267), include clippings, programs, concert reviews, fan mail, symphony history, and correspondence.  Both are available in WH/G at the Central Library, along with newspaper clippings files containing a wealth of biographical information.  Come visit!