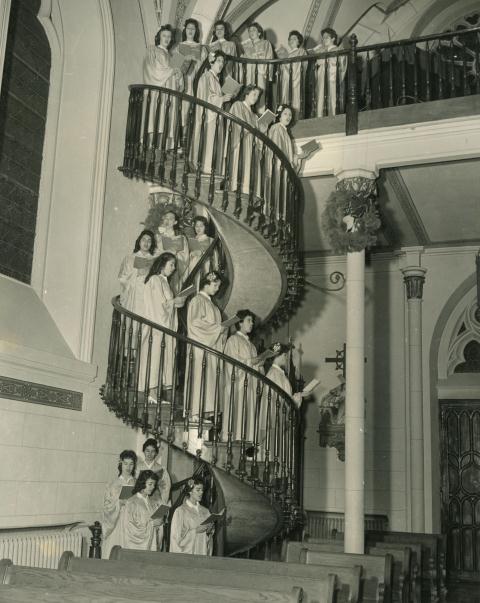 Subtitled "Making a Difference in Colorado Since 1864" the exhibit, on view through  March 17, 2012, will illustrate the history of the contributions of the Loretto Community through photographs, art, and memorabilia. The focus will be on five areas of their history and accomplishments: Beginnings in Kentucky and Santa Fe; The Schools; Global Loretto; Social Entrepreneurship: Peace and Justice; and Ordinary Women, Extraordinary Lives.
Some of the signature pieces on view will include a replica of the very first high school diploma conferred in the Colorado territory in 1875 by St. Mary's Academy to pupil Jesse Forshee, and images of Santa Fe's world-renowned circular staircase built in 1880 by a carpenter whose identity remains among Santa Fe's most oft-repeated mysteries.
The Sisters of Loretto were founded in Kentucky in 1812 and arrived in Colorado via Santa Fe in 1864 under the escort of Bishop Joseph Machebeuf, who recruited them as educators. It was on August 1, 1864 when three pioneers, Ignacia Mora, Beatriz Maes Torres, and Joanna Walsh, opened their first Colorado school, St. Mary's Academy, still in operation today at 4545 South University Blvd. Overall, they opened 27 schools in Colorado and to this day their lives are dedicated to educating by working for justice and acting for peace because the gospel urges them.
Please visit www.lorettocommunity.org for more information on the Loretto Community