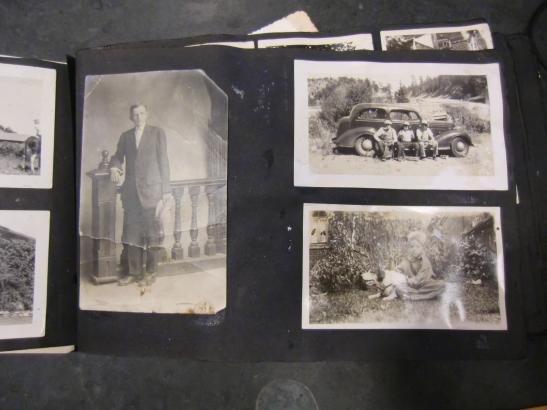 Long lost photo album returned
It was a treat this month to be able to unite two long lost photo albums with their rightful owner. The library has a thoughtful donor with a good memory and some good genealogy research skills to thank for this happy connection. 
In late June, Denise Cofas of Texas mailed the library 2 photo albums that had belonged to a neighbor of  her late parents' in Iowa. Denise fondly remembered the man who had owned the albums, and thought she recalled that his daughter lived in Colorado. By cobbling together her memory of what William Gruninger looked like, a little census research, and a hunch that the Library might be able to find William's daughter, Denise sent a note describing the story, her research, and the photo albums to The Western History/Genealogy Department.
William (Bill) Gruninger worked for Denver Tramway as a streetcar operator, as did his father, Harry Gruninger. A particularly nice photo in the album shows one of the Gruninger's posing, in work uniform, beside a streetcar. 
I was able to track down a phone number for Cindy in Colorado Springs, and when she answered the phone, I was almost as astounded to reach her as she was to learn about the album's unlikely route to the library. A few days later, Cindy arrived at the library to find her late father's albums, showing photos of grandparents, and even snapshots of herself as a baby.
Cindy plans to identify some of the people in the photo album so that if it ever changes hands again, the names and places won't be lost.
Amazing what a little good will and some historical research can do!