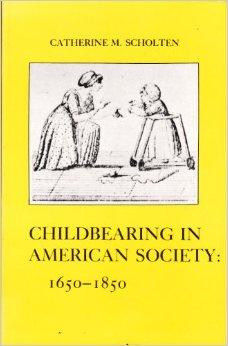 Local and Social History additions
Genealogy researchers can understand using vital records, land, tax, cemetery resources in their studies.  When it comes to painting a broader picture of the lives of their ancestors they employ the tools of local studies and social history.
Catherine Scholten in Childbearing in American Society: 1650-1850 gives an academic lens to birth'n babies. Child mortality was high, loss of life among mothers and complications associated with childbirth are studied. Readers gain a better understanding of how fortunate they are to have any ancestors at all to research!
Sheila Ellis in Down a Cobbled Street the Story of Clovelly [England] employs local studies in coming to an understanding of the early twentieth century history of her village. American researchers can use some of her techniques in presenting their own history, albeit local, regional, or familial. The liberal use of images allows the readers to visually understand the local setting as well as gaining from a well tended narrative.
These are just two examples of treasures recently discovered at the winter book sale sponsored by the Friends of the Denver Public Library. You never know what hidden gems you will discover and how they find their ways into the collections of the DPL!