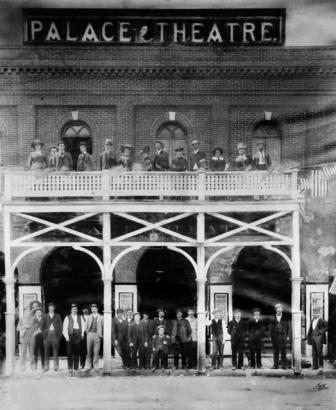 On a recent trip to my hometown in the Sierra Nevada's I realized that I have become way too reliant on technology for entertainment.  I have to admit that I was very lost without a wireless connection or cell phone reception.  I found myself wandering around town trying to remember what I used to do for fun.  Granted I wasn't ten years old anymore and couldn't go play in the creek, or go cow tipping (just a note here, I was never involved in Cow Tipping, but I heard plenty of stories from class mates who had tried this while inebriated, and consequently had run-ins with barbed-wire fences...). 
 
This got me thinking about what life was like before headphones became part of the human anatomy.  So, continuing with my old stand-by of the Story of Denver by Jerome Smiley I decided to do a little research on the matter.  In Chapter 70 of Story of Denver, Smiley discusses the "amusements" of Denver from the very beginning till the turn of the 20th Century.  As can be expected the earlier amusements were what you would imagine to see in the Wild West, with the audience inviting the performers to join them in drinks between performances.  According to Smiley, "The pioneer theaters of Denver were pretty rough establishments and the proceedings on their stages were usually in keeping with the tastes of the average person in the exceedingly varied assortment of men that constituted the audiences... the ability of the audience to discriminate was usually somewhat befuddled, itself, after ten o'clock in the evening, by between-acts adjournments to the regions below."
 
Thankfully, things began to improve towards the end of the 19th Century.  Gambling and drinking were replaced with 1,000 people seating and operatic performances.  Establishments like the Tabor, Broadway, Lyceum, and Denver Theaters all became meccas for the arts and performances.  The unfortunate part of the story is that many of these theaters caught fire at least one time or another and no longer exist. 
 
Another interesting aspect to the "amusements" in Denver were, according to Smiley, the "summer amusements" which usually ran from May to September.  Like today there were many thrill seekers.  To quote Smiley again..."The 'Chutes Park,' on the bank of Cherry Creek, at the intersection of Corona street and Fourth avenue in the southeastern section of the city, is a recent addition to these summer places of amusement, and is designed for those who enjoy spectacular things, and have a fondness for 'roller coasters', a playground for grown-up boys and girls." 
 
My parting thoughts are these...To the early 20th century mind what constituted as "spectacular things" and "roller coasters"?  And what would they think about today's parks with walking animated characters, gravity defying coasters, flashing lights, and load music?   I'm sure it would provide many "spectacular things" to amaze them.