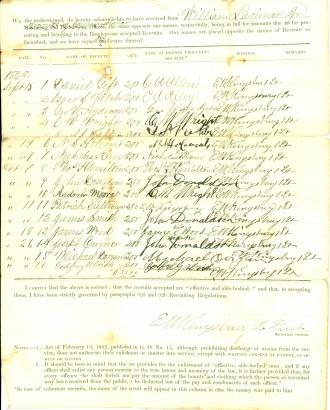 Headquarters Recruiting Commission for Colorado Territory
 
Denver 25th Aug. 1862
 
            Sir
                        You have been appointed by his Excellency Gov Elbert a recruiting officer with the rank of 2nd Lieut.
 
            You will on receipt of said appointment proceed forthwith to raise and enlist a Volunteer Infantry Company to serve for 3 years or during the war.       A Bounty of 25$ and one month's pay in advance will be paid to each recruit when mustered into the Services of the United States.
 
            Until further orders you will as recruiting officer make all necessary arrangements for subsistence for recruits and be governed strictly by Gen Orders No 70 and 75 – a copy of each is hereby enclosed
 
            Economy in every department of the recruiting services will be strictly observed and it is expected that the business of the enclosed commission may be conducted in a manner honorable to those engaged in it and entirely satisfactory to the Government.
 
            You will be expected to report frequently to this office the prospects progress and prospects of the work and make any suggestions that may occur to you from time to time in facilitating its accomplishment.
                                                                                    Wm Larimer, Jr.
                                                                                    Commission for Recruiting for
                                                                                    Colorado Territory
 
 
List of Recruiting officers appointed by Gov Elbert
 
            Wm Larimer, Jr.                   Denver
            O A Whilemore [Whittemore]            Summit County
            R.R. Harbor [Harbour]                                 Breckenridge
            Thomas Moses             Idaho
            M S. Beach                           Colorado
            George [T]. Crocker                 California Gulch
            Daniel Witter                           Hamilton
            C W Mather                         Central City
            M B Holloway                      Gilpin County
 
I know them all personally but Moses of Idaho he came well recommended both Wm H Russell and G B Reno wrote to me for his appointment. Gov Elbert and I agree to the above they now all pushing the claims. By the way Wm H Russell is at Idaho [Springs] mining operations he came out in his own conveyance about 2 month since. He is using Hydrolics just [beginning] has spent so far 6000$ and got about 8 acres in ___ Valley and they do say going to make "big money" he lives in
 
                                                            Denver. 27th Aug 1862 is the date of my letter. – if
                                                            I don't bet a letter by next ____ I will be sadly
                                                            Disappointed
 
            Organization of Infantry Company
 
                        1 Captain
                        1 First Lieut
                        1 Second L
                        1 First Sergeant
                        4 Sergeants
                        8 Corporals
                        2 Musicians
                        1 Wagoner
                        64 Privates
                        83 Aggregate                    Minimum
Maximum            18 Privates may be added in all 101
 
            I merely send you this as a copy of my instructions I wrote them on fine I mean new foolscap.
 
                        All Gov Elbert does is to appoint with instructions to report to me. The Gov. gave me on of the ten appointments for to raise a company here. This would be a fine chance for you Will to be Capt. But do not think of it as a present I will have it I hope in my own hand not certain either as Gov Elbert and by the time the company is raised Gov. Evans will be here and may appoint who he please. I have no confidence in Gov Evans to do anything for me he can help from his treatment to me before he left by Gov Elbert is my friend and I think gave me by his list Company A. If I get my company full first I am Company A. but I think the first full company mustered in will be co A. We propose to raise two companies here but the Gov
-----------------------------------------------------------------------------------------------------------
 
will not appoint the recruiting officer here for some time in order to let me get mine fairly under way if not full. I think as I say Gov Elbert is my friend for Colonel and in order to compel Gov Evans to appoint me he has taken this course.
 
            We had certainly the finest meeting ever held in Colorado Chief Justice Hall provided [analysis] the whole meeting. Gov Elbert Judge Armour Secty Weld Attny Gen Brown and Judge [Mose] from Central City all made speeches. So did Chief Justice Hall on taking the chair I came next to Hall and I must say I done better than I expected I trembled all day and when the hour of meeting came I felt scared knowing I was expected to do a big job. I did I got more cheers than any of them everyone appeared to aid me and when Chief Justice Hall proposed three cheers for Gen Larimer and the 3rd Colorado at the close it was a deafness I tell you. The speeches were all good extra good some of them rather studied as the meeting was called a few days that gave them time to prepare. I have sent you both newspapers that report the meeting and you will see what they say. I go to Central City Saturday I hold a meeting there in the evening but I have got the ice broke and that and future meetings will give me no trembles When I took the stand I trembled but the first word relieved me and I never felt better and I know I done my subject justice I was calm and collected and did reach as one of the papers says the feelings of the people I made no attempt at fun in my speech speaking of Kansas and her exposed condition with every Southern state hating her and only waiting for an opportunity to pitch into her. When Judge Armour took the stand he said I had made a statement that he knew I believed but it was not so. That his state Maryland had ever stood by Kansas and but as he [progressed] he came out for me and my regiment and said he would scale the mountains with me to raise it. I did not reply. Which I could you know that Mister Davis did kind of assist that was all and the actions of Baltimore shooting down the Massachusetts volunteers was fresh in my mind but as the Judge done me more good that any other I did not reply. He told me next
------------------------------------------------------------------------------------------------------------
 
 that he only took that ground to start his speech and to defend Maryland that he was a South Republican and all that kind of humbug. He the Judge is a Capital speaker and has ever been a good friend of mine and done me no harm. A. Steck told me next morning I stated the truth about the Southern States even including Maryland. So I assure you the meeting passed off nicely. After Attny Gen Brown spoke well but made some remarks about the number of the shoulder strap men of the 2nd Col about town doing nothing offended Capt E. D. Boyd who is still here recruiting for his company. He has been recruiting all summer and still wants 55 men he is done now as all the recruits hereafter want to join my Regiment for the States Boyd is quite jealous of my mission. Still he loaned me his music to get up my meeting. I paid him the Capt quite a compliment for it in my speech. Another remark of Attny Gen Brown he said he hoped they would all go to work and ___ "This Old Man" meaning me to get off down the Platte with his Regiments. I spoke out and said Gen take that old man back if you please and such a shout you never heard and he did take it back nicely he said I was not an old man that he had more gray hairs in his head than I had. It passed off well.
 
            Secty Weld is Editing the Herald and is pushing me in every direction he does want to join my regiment he wants to Lieut Col (or Major) but he thinks neither Gov Elbert or Evans will give it he knows I have not the power still he wants my influence which is good as Gov Elbert tells me I should have my preferences in all his appointments. Post Master Brown at Central City I think well be Major and possibly Crocker of California Gulch Lieut Col. Not certain of course Crocker is a recruiting officer 
---------------------------------------------------------------------------------------------------------
 
Brown is not before I came a 3rd Col was on the carpet and all the officers arranged one of Altmans prospects. He Altman was to be Col Crocker Lieut Col the major undecided. Altman I know is now wanting to be Col if not Lieut Co. He has gone back to the mountains. I found him here he was a member of Council most of the session by contest he has finally got out but only five days before adjournment he told me he got paid for 35 days as good a thing as he wanted.
 
            I wrote you Will by last mail about getting freight engaged here the report here is that trains are not permitted to leave the river if so this county is in a tight place. This will not affect my regiment as Capt Ally has at least 1000 sacks of flour and everything else we need and I have enough with him for everything only awaiting the concurrence of General Lane. I wrote you also about only getting dust for the lots. A.M. Clarke is a good friend of mine here and I don't care no loss to me. I done the best I could as I wrote I may get greenbacks even up. But if you need money drew for at least 200$ in dust and I will pay the drafts on sight. I have 240$ in Bank. I hope to get some rent money from Mr. Lane Whitsitt is a hard man to get money out of. He owes me in a few days 45$ ___ rent Mr.Lane at least 50 __ will pay. I think he says so. I am not certain whether Mr. Lane paid me last year 10 or 20$ last year but all of the last year is done. The rent of bot was 20$ last year 30 the 2nd or 3rd both homes are occupied at present. Harrison the theater man has Mr. Lanes the other family I don't know. I guess Whitsitt will not move the houses. He is not doing any good I think from what people tell me still he looks as well as usual his wife has gone to the States with
----------------------------------------------------------------------------------------------------------
 
 her mother Mrs. Miles out a ___ Garish his brother-in-law Judge Wyat C. Lawrence Clancy Judge Smith latter merchant and many others that I know well have gone to Salmon River all a group to be disappointed. Much of the emigration we expected back this fall I now feel quite confident about raising the Regiment
 
            Though very strange indeed I have not received a line from home since I left. (Only the Times newspaper). I did think some of you would write once a week and it is now nearly 20 days or 3 weeks since I left home. Do write me once a week if not oftener. I have plenty of work on hand but I hope never to be so busy that cannot drop a line to my loved and dear wife and children. I will not suppose you have no affection for me still a seeming studied silence by the whole family does seem to me be strange. Had I not had the Times dated 4 days after I left I would have supposed that Thomas was sick or something. I see Lieut Col Morris is calling his troops. I do hope Will you will manage some way to keep out if I see the way clear for you I want you to join the Col 3rd as I have much pride in the matter if I succeed.
 
            Give my kind regards to all my friends downtown. I have friends in Leavenworth that I now love. They stood by me in my appointment.
 
            This is a family letter. I do not know who to direct it to scarcely. I suppose as usual Thos is first to the P. Office. I hope whoever gets my letters first of my family will open them no difference who they are directed to.
                                                           
                                                            Your husband and father
                                                            From
                                                                        Wm L. Lr.