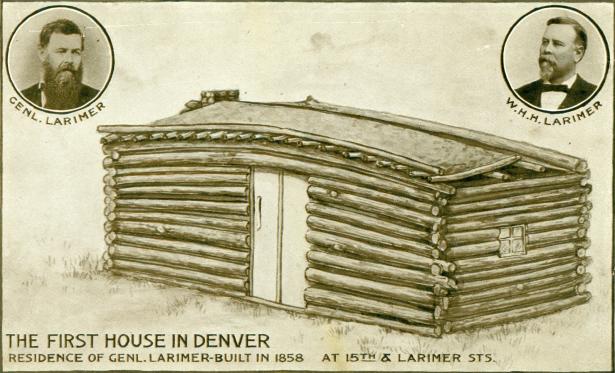 William Larimer, Jr. and his 17-year old son, William H.H. Larimer, traveled from Leavenworth, Kansas Territory to a site they named Denver City in the fall of 1858.  The following is a transcription of a letter that Larimer sent his Leavenworth family describing the new town.
 
 
                                                                                                Denver City K.T.
                                                                                                12th Dec 1858
 
Dear Wife
            I am glad to hear of another opportunity of writing to you and I am glad to do so under such favorable circumstances. We are now comfortable situated and have Rev fisher and our old friend Mr. McLane with us all night. Mr. Fisher has just gone across the street to sleep with Mr. Lawrence. Will Mr. McLane and I will sleep in our bed we have but one you know. There is quite street of business here I assure you We have now fifty houses on two ways of building. Our cabin is so nice I have a four pane window and a good board door with a sod chimney in the corner. It is 15 feet 6 inches by 16 feet 6 inches and you have no idea how comfortable we all live. We sleep warm and nice. Will and I are so busy every day I have the donating of lots to attend to and I am kept busy. This is Sunday night Will and I were out all day laying foundations around our town and I have the pleasure to inform you that Will and I own two claims inside the city limit. Our town company had 2500 acres surveyed and sent on for lithographing. We had too much land the claim club said we must cut our town claim down to 1280, two sections. So our company met last night and passed a resolution to cut down to 1280. This left 8 claims over here selected with Mr. Lawrence and Mr. Clancy to select the 1280 for the town company and after we done it we good naturedly took the balance of the claims amongst us. 
------------------------------------------------------------
Will and I got one each 160 each 320 acres right in the city and the most beautiful claims you ever saw we got the best claims both laying side by side. One mile along the Eastern line of the town by one half mile. The claims lay to suit for the city and you will see both and in fact all the claims taken. I think this is the happiest night Will ever had. We have also each full shares in the city besides. We have 41 shareholders in all and Will and I have two out of the 41 – or say one twentieth of the whole. With most glorious prospects. Mr. Lawrence Dorsett Clancy Curtis and Blake (?)McHadden have the other claims all good and all in the map. The next letter I will give John the exact description of the location on the map. Will and I between us own about 2800 lots or certainly 2500 after all the donations. Our lots are the same size as the Leavenworth City lots with 80 foot streets ___ and 60 feet with the elevation of Delaware Street. You can calculate the lots yourself. Leavenworth City 320 acres had 2400. Will and I have just the same as Leavenworth between us in our claims. If we had not got these claims we would have taken two others farther out of the city nearby but not so good on account of distance. I really do feel as though our fortune was made. The reports from the gold diggings all around us is very cheering truly. By Spring you will hear better [k]news still. I think Will and I will open an exchange office. I may have to write for either John or T.M. Jones to come here. Still I will not do so now. I want John to keep his office in Leavenworth going. The only thing that I might want John or Mr. Jones for would be to hold my property for me while I will get my shares of stock in Black I guess I will have to act as agent for Will as he is not of age. Mr. Lawrence and Dorsett have both been very fortunate
------------------------------------------------------------
 and hold the same interests Will and I do. Mr. Whitsett and Jewell both have interests in Denver City. Will and I may find some objections not as more than the others about the claims we took today. Still if we have to give them up we will get richly paid. We can then take other claims nearly as good. Will and I will share with John and Ed and the family on a big liberal scale you may feel assured. If this county succeeds as I cannot now doubt we are all right side up with care. I received John's letter of the 5th Oct but by now (?)Humphreys has arrived since I last wrote. He got here just 20 days after us just too late to get any good town interests. We were here in the nick of time. In fact this town company was waiting for me they knew I was coming. We expect to hear from you soon from Ft. Laramie. Mr. Lawrence and Dorsett are going to have a nice dinner on Christmas. Will and I will be there and Will and I are going to get a nice dinner on New Years Day. Mr. McLane if to be with us for dinner that day with Mr. Lawrence and Dorsett. Pine lumber sawed with whip saw sells at 20ct a foot cottonwood bears(?) at 15cts. We will have a great many hewn(?) log houses by the 1st of March, a great many men are now up in the pinerys sawing lumber I saw about 500 foot yesterday of the finest kind of lumber. I want to tell you that we often have accidents in our cooking. Yesterday I was stewing some dried apples and I forgot to keep up the water and I burnt them up nearly. Our pans and coffee pots often turn over. We want a good large bake oven very much I mean a better one we use than little cooking stove. It does well but we have to make a fire outside of the door. We are going to rig it inside. The weather is still beautiful the snow is about all gone again with very warm pleasant days. We had some pretty cold days
------------------------------------------------------------
last week still men worked every day the river is not wide here South Platte but it did not freeze over Cherry Creek at its mouth this point is dry but a smart creek in the spring. Will and I have taken in a young lawyer David Collier from Wyandot he lives with us he has all kinds of nice things to eat and very clever he boards himself he has dried green corn dried grapes and everything besides he helps get more carry water and build our house he made the window frame and will make us a table stools etc all for our room until he gets his up he has a good yoke of oxen and no wagon. Will and him will get the logs together he will hue Wills logs and Will will hall [haul] his. We have to go down the Platte now about 1½ mile for the logs they are all cut of near here. Mr. Collier and I are both sitting at the same table. Mr. McLane and Will are gone to bed they are talking about the county Omaha Indians town sites and everything else. Wills claims are both in Denver City and to be lithographed on the town of Denver City but the decision last night made all over the 12 claims. They are now claims but all are laid out in city lots. I want you to tell our Mr. Pitser that I have selected him his church lot – 4 lots of 100 feet on the corner of C and Arapahoe Street southeast corner. I have given Rev. Fisher the same 4 lots 100 feet right across C Street. I mean our Rev Fisher the Methodist clergyman. My house is on the corner of C. Larimer St. or rather back from the corner 60 feet. If our Mr. Pitser wants another pair of lots to build his house upon I will give them to him or rather the company will. Will is going to write. Give my kindest respects to all my friends and remember me to all of my dear dear children. I will certainly be home next fall if not sooner. Will will also go home next fall or summer on a visit and I want to arrange to stay all winter.
                                                                        Yours truly
                                                                                    Wm Larimer Jr
 
Will thinks we can do without the grey if you send I want a very plain ___ of any make
 
Say nothing about Arapahoe City as no one knows it here not even Lawrence You will find the account in Annie's letter which I want you all to read.
 
The news from the mines never been so good as today the 15th I have no doubt but we have as good mines as California gold has been discovered in the quartz rock let those who doubt doubt me now this city is all ______ afraid gone. If John can spare the money I want him to send me the rifle – large bore I can double the nearby meat but it is mostly large deer game. I am not particular about it still if a good opportunity offers which then will be and convenient to send me do so.
 
            Tell Col Thorne that Charles Blake is building a house 96 feet by 60 feet today it will make a good theatre building but not built expressly for that purpose.
 
            Mail Brockway's letter and request for him to wait for the wagon. Brockway's direction is Flint Michigan Bloomer St. Marys Iowa
 
            I have just heard of my pony. I expect to get her. She is down in Mexico.
 
            I find the best claims of what we call Arapahoe City gone. I may give that city up, for the present if not altogether.