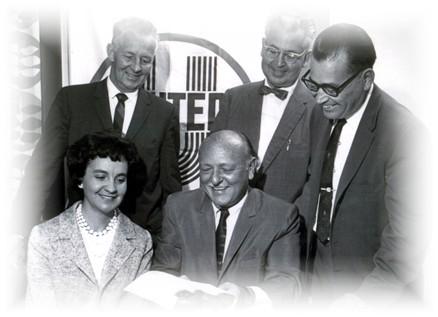 The Latin American Research and Service Agency (LARASA, WH1842) contains papers documenting the struggle to improve life in Colorado for the Latino community.  It was formed in 1964 by 27 community leaders including, among others, Bernie Valdez, Lena Archuleta, Rachel The Professor, Charles Tafoya and Rodolfo "Corky" Gonzales. 
Starting as a Mile High United Way agency, LARASA soon added grants to its funding.  The papers contain many folders of their correspondence and applications with corporations, foundations and government agencies seeking money for specific projects.  As the years passed, the agency learned which bodies were helpful and how to design projects to catch the eye of potential donors as well as to contribute to their mission.
What is amazing about the collection is the current relevance of the research.  LARASA published reports about topics important then and just as important now. The following are some of the topics of concern:
Illegal immigration
Latino health issues
Bilingual education
Charter schools
For example, a LARASA-sponsored study done by the University of Colorado in 2001-2002 culminated in a report entitled Assessing and Developing the Cultural and Linguistic Competence of Medicaid Providers Serving Latinos in Colorado contains insights particularly relevant to the current health care debate.  Despite the careful research displayed in this document and the information gained from this study, the report is not generally available.  Also, background information about Denver charter schools and the struggles to solve the problem of Denver's failing schools might provide answers for today's similar, unsolved problems.
The collection is currently being processed.  A detailed finding aid will be produced.  It is, nevertheless, available for researchers at any time in the Western History Department of the Denver Public Library.  The hope is that the efforts of this significant Latino organization will gain the credibility that it deserves.