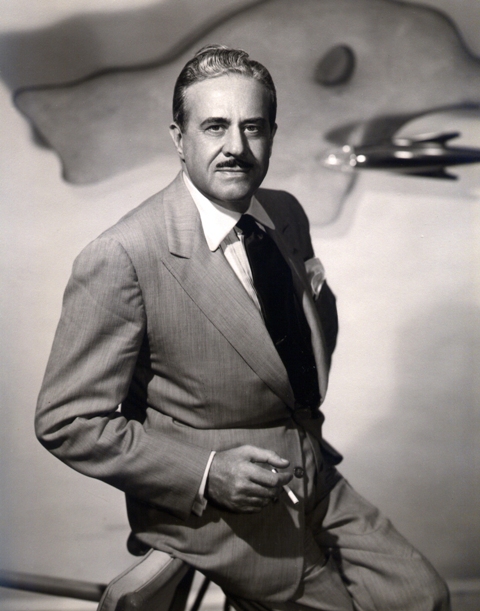 -- as their Doodle today honors "The Man Who Designed Everything"— Raymond Loewy.
He was an industrial designer behind so many items— refrigerators to tableware, automobiles to eyeglasses, sewing machines to twin lens reflex film cameras— Raymond Loewy's muse was the locomotive, and without that passion, America may have never seen the far-reaching impact of his creative genius.
His work is ubiquitous— familiar, commonplace, and thus overlooked as well. 
As an immigrant to America from France after serving in WWI, the genius locomotive lover Loewy earned the rent working as a display designer and fashion illustrator for New York department stores.
His first commission for a product design came with an assignment by Gestetner to bring some panache to their document duplication machine. Who could possibly have guessed that the career of America's greatest industrial and product designer would have been launched by an antiquated copy machine?
Within 10 years, he would be widely recognized for his Coldspot refrigerator design which changed how appliances and kitchens in general were perceived. It were these concepts and lines which garnered the attention of the Pennsylvania Railroad. It was this opportunity which not only brought him to his dream of designing a locomotive, but led him to reminisce the days of his youth which were spent romancing the trains, instead of the young ladies of Paris.
An excerpt from the Loewy edited 1937 title, The Locomotive (its esthetics) found in WH/G's closed stacks; illustrates his obsessive conundrum:
"My youth was charmed by the glamour of the locomotive. I am still under its spell… Unable to control an irresistible craving to sketch and dream of locomotives at the oddest moments, it was a constant source of trouble during college days, and the despair of my professors. As a young man, it led to my complete oblivion as a dancing partner, for I spent long enchanting hours at the locomotive depot instead of attending scheduled dance lessons. I have no regrets." 
In 1936, the Loewy "Torpedo"— a converted Pennsylvania Railroad's Engine #3768, a Pacific Type 4-6-2, was placed into service. It was a radical development in locomotive design, where a traditional steamer was converted to a streamliner by having a streamlined shroud constructed around the existing engine.
The original, unmodified 3768 is seen here in 1933, in a photograph from our Digital Collections by Otto Perry. This conversion of the #3768 would lead to the 1939 completed construction of Loewy and PRR's S1, which made her debut at the NY World's Fair.
Personally, I have a great love for great design. I believe that a design in use, of practicality, utility and good function is an art form greater than any other. 
Sure, a Renoir is a thing of beauty, but it just hangs there. This isn't to say that I'm not engaged by works of "fine art"— but my appreciation is much greater for the tactile, the sensorial, the true hands-on relationship that comes from a working relationship with an object or mechanism. It could be the feel of the steering wheel and clutch of a vehicle, the weight and balance of a fine pen, the comfort of wearing a fine wristwatch, or even the feeling one might get from holding a certain cola bottle.
It is the back stories of these items and their authors—the industrial and graphic designers— that I love. Their work IS art to me, and it is my hope that people will once again nurture a greater love for the things they use, and look a little closer, to see beneath the surface, beyond the familiar and to appreciate the quality of every facet of things—from conception to construction.
Please visit or search our library, or almost any library to learn more about the everyday things. You will no doubt be astounded at what you just might find, and perhaps gain a greater appreciation for something you may have once taken for granted. It's an amazing world out there, and you can learn a lot about it by looking even just a bit more closely.