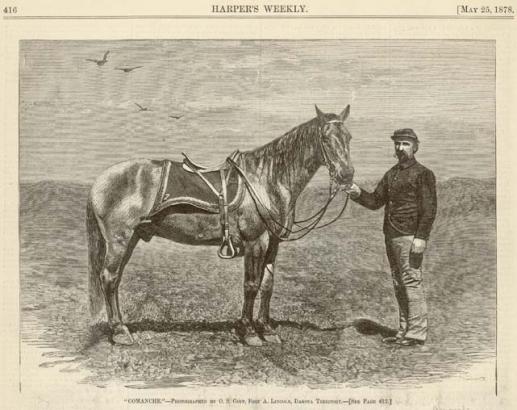 I remember the horse, Comanche, from my University of Kansas days.  The stuffed version looked nothing like the sleek creature portrayed in the first image.  It was rather small and motheaten as I remember. 
Whether or not Comanche was Custer's horse, it certainly carried an Indian Wars veteran, like the one portrayed in the second image.  Don Rickey was an expert on these veterans.  He wrote Forty Miles a Day on Beans and Hay based upon original interviews with veterans.  Many of these interviews are contained in his collection (Don Rickey Papers WH986) available for research in the Western History Department.
Rickey also was in charge of the Little Bighorn Battle Site in Montana for many years.  There are papers in his collection pertaining to the gravesite as pictured in the third image.