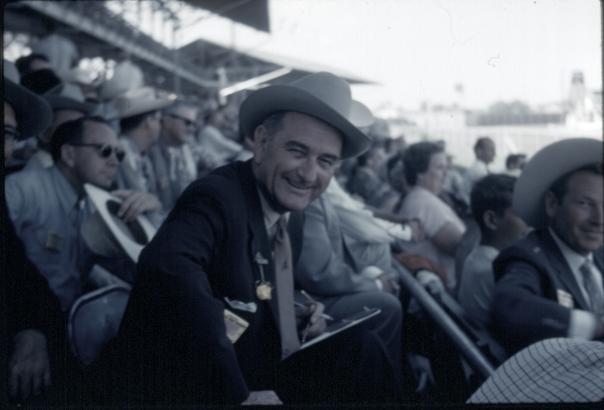 Vice-Presidential candidate Lyndon Baines Johnson came to Denver in July 1960 at the invitation of Denver Post editor, E. Palmer Hoyt.  The letter, one of several from Hoyt's collection (WH1226), represents a long friendship dating from shared Washington experiences during World War II. 
 
Johnson and Hoyt rode the Post Special train from Denver to Cheyenne, Wyoming for the Cheyenne Frontier Days celebration.  Many local celebrities accompanied them.  The photograph is a color slide of Johnson from the Clarence and Fairfax Holmes collection (WH1270).  Dr. Holmes, a Denver dentist, was known for his humanitarian activities including starting the Denver chapter of the N.A.A.C.P. in 1914.
 
An interesting follow-up is that during Johnson's 1964 Presidential campaign, Holmes, a lifelong staunch Republican, supported him. Other photos in his collection portray Holmes standing outside of his dental office with a sign saying "Republicans for LBJ."