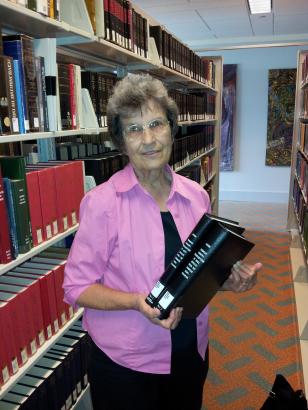 ...But then anyone who knows her is aware of that.  Ruth was excited when she found her work Gunnison Country: Transcriptions of News Articles from the Gunnison News-Champion on the shelf. Moore labored transcribing and arranging articles from the Gunnison News-Champion covering local history, news articles of historical note, and obituaries from the 1935 through 1945.
She divided the material into three sections. The first section deals with people: it includes recollections by individual pioneers, stories about pioneers, and obituaries.
Section two concerns pioneer organizations and meetings with lists of who attended these gatherings. It includes Gunnison County reunions in Denver and California with a roster, including addresses of those present.  Western State College alumni often held meetings at the same time.
Sections three has articles of early history of the area including towns, explorers, Indians, mines and quaries, smelters, ranches and railroads. The story of White Pine of 1883-1885 as recollected by George A. Roots is a veritable diary of the mining town.
Ruth Moore has included a complete index of all people mentioned in this two colume work.
Gunnison Country will be found in the Genealogy stacks under G929.578841 M782gu 2010