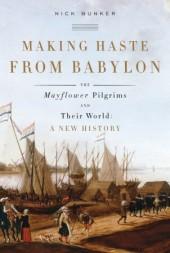 Three books that will broaden your perspective on early American History await you in Genealogy
Making Haste From Babylon: the Mayflower Pilgrims and Their World a New History by Nick Bunker. Bunker uses a wealth of evidence from landscape, archaeology, and hundreds of previously underused documents to weave a fresh narrative of the Mayflower Pilgraim's experience.
Mark Williams in The Brittle Thread of Life: Backcountry People Make a Place for Themselves in Early America focuses on the eighteenth-century New England frontier.
Bob Deans' The River Where America Began: a Journey Along the James weaves the narrative of American History encompassing the paradox of a culture dedicated to liberty and equality while enslaving their fellowman-men, women, and child.