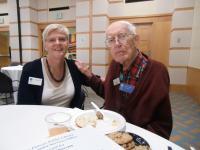 As a young man he was a page in the Cleveland, Ohio main library.   Glenn and his wife Juanita discovered Colorado during his stint in the military in World War II. He stayed and began his career as a geologist with the U.S. Geological Survey. They raised their two daughters and son in Lakewood. His mother relocated to Colorado to be closer to her family. She was the genealogist in the family. Glenn would come with her to the Denver Public Library as she did research and as they pulled books he dutifully reshelved them [remembering his days as a young page].  After a few weeks Joanne Classen asked him to sign the volunteer register and keep track of his hours.  That was 50 years ago.
Glenn Robert Scott created a wonderful beginners guide and checklist and went on to create close to 70 items which are cataloged at the DPL. His compiled family histories and genealogies note challenging research topics. His opus magnus is the Historical Trail Map series published by the U. S. Geological Survey. His papers were donated to the DPL. Glenn Robert Scott was the first recipient of the Eleanor Gehres Award for outstanding service to the Western History community from the Denver Public Library in 1991 and the 1990 Volunteer of the Year from the DPL and the Friends Foundation.
 
Glenn died on 4 June 2012. He was preceded in death by his wife Juanita. He is survived by daughters Jeanne [Roger Pestorious] of Conger, MN, Kathy [Donald Fagerstone] of Windsor, CO and son James Scott, Lakewood, CO.