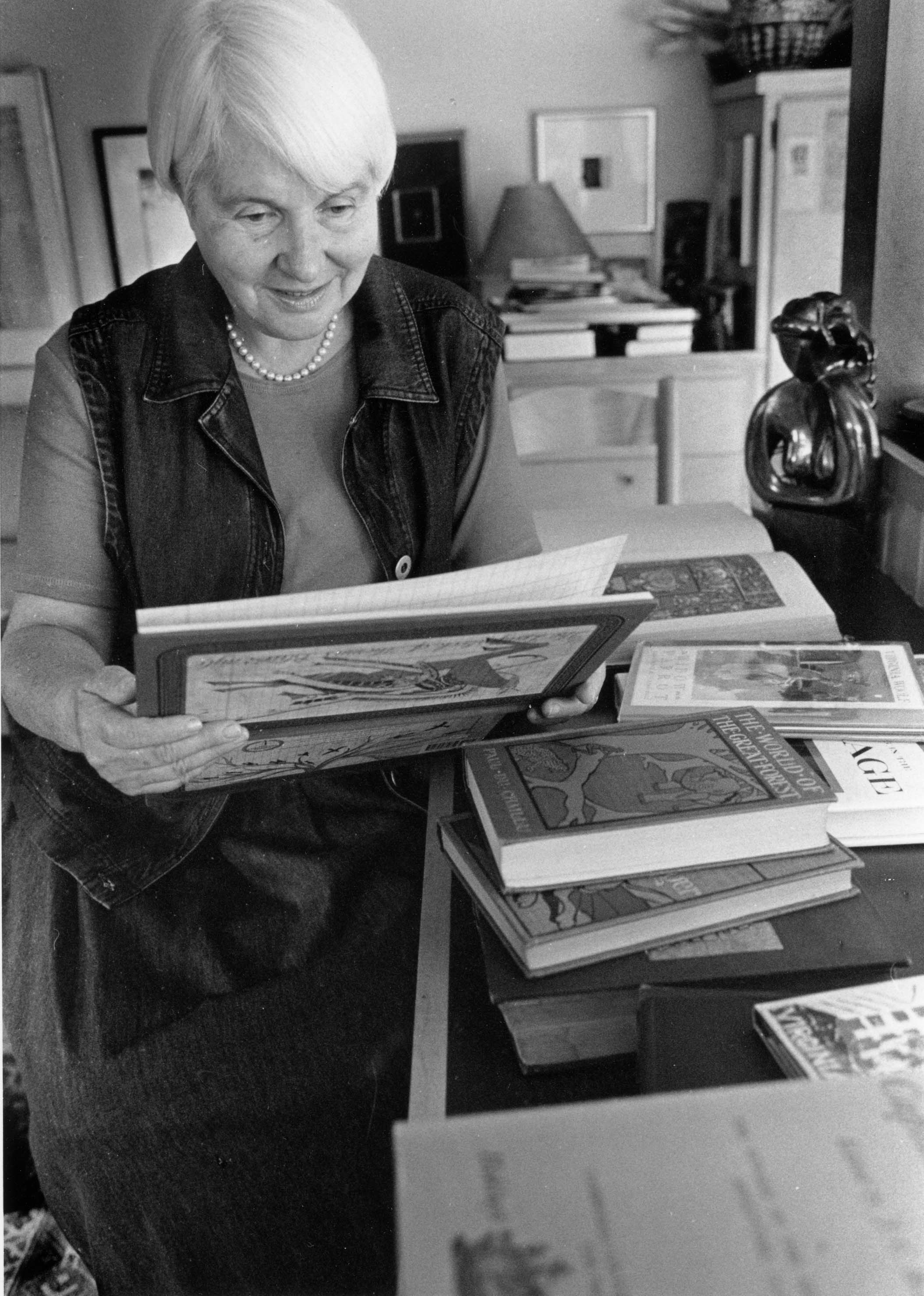 Eleanor Gehres must be smiling up in that library called heaven upon hearing that Marilyn is the 2012 winner. Can you think of anyone who has given more time, love, books and even her own poetry to our library?  Marilyn has spent so much time at the library that even regular employees ask her if she works in the Western History & Genealogy Department.
Marilyn confesses: "I developed a very serious relationship with libraries when I was 12 or 13.  I took books home and even slept with them. When people asked me why I always had a book with me, I said 'books are my passage into life. They help me to see the many sides of people that others don't see. ' "
 
Trying to pin down all that Marilyn Amer has done for libraries is like the proverbial problem of herding cats:
•    Trustee, DPL Friends foundation, 1976-1989
•    Creator & Co-Chair of the Rare and Not-So-Rare Book and Art Auction, 1982-2008
•    Denver Library Commissioner, DPL, 1998-2005
•    Co-Creator of the Poetry Project to bring major poets, such as Denise Levertov,   
Stephen Spender and John Ashbery to Denver for readings
•    Co-Creator of DPL's Authors on Stage, bringing leading national authors, such as 
Edward Abbey, Tony Hillerman, Calvin Trillin, John Updike, Toni Morrison, John Irving, Mary McCarthy to lecture in Denver
•    Created DPL's Local Authors Series, featuring such notables as Margaret Coel,
Tom The Professor, Sandra Dallas, Seymour Epstein, Bruce Ducker  
•    Helped establish the Eleanor Gehres Award, The Latino Award, Library People, Small Library Support
•     Continues to support library programs, such as Literacy (Read-A-Loud), Open Book (stories of/about illustrious women)
Marilyn Amer was raised in Flushing, New York. Her father, a traveling vaudeville soft-shoe dancer, settled down after his marriage to sell shoes at Bloomingdale's in N.Y.
Marilyn attended public schools P.S. 30, P.S. 79 and Flushing High School and received a B.A. at Queens College and an M.A, in English at the University of Denver. In 1965, she became an Adjunct Professor of English at the University of Colorado at Denver. For 31 years Marilyn taught courses in writing, drama, poetry and the novel. Overcoming the skepticism of some faculty members, she created and taught the first Woman's Study course in the 1990's, "Archetypes of Women," followed by "Sexuality/Textuality," an examination of gender in writing.
Marilyn's passion for books led her to the Denver Public Library where she directed her time and energy toward creating programs yoking the library, literature and the community.  The Rare and Not-So-Rare Book Auction which "offered books ever so rare / and special items with not much wear/ maps, deeds and letters too/ crowds of bidders to tables drew (Amer)" raised thousands of dollars for Western History and other library departments during its 26 years of existence.
Marilyn has been married to Jules Amer, a prominent pediatrician, for 60 years. They have 3 children and 8 grand children whom they hope to inspire with love for literature and libraries.   
                                                                                              Tom The Professor
A professor of history at the University of Colorado, Denver, Tom The Professor has authored over thirty books about Denver and Colorado.  In 2011, the Library designated him the recipient of the Eleanor Gehres award for his support and contributions to the Western History collection.
Recipients of the Eleanor Gehres Award
1999    Eleanor M. Gehres
2000    Glenn R. Scott
2001    The Vida Ellison Trust: Frances and William Griffith and Jack Griffith, Trustees
2002    Carolyn and Don Etter
2003    Virginia and Bruce Rockwell
2004    Barbara Walton
2005    National Association of the 10th Mountain Division
2006    Wesley A. Brown
2007    Philip J. Panum
2008    Kay Wisnia
2009    Deborah A. Wadsworth
2010    The Colorado Railroad Museum
2011    Thomas J. The Professor